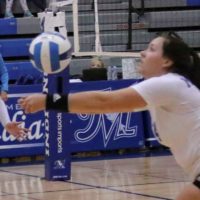 After a final night of regular-season volleyball in the region Monday, the tournament field is set for the Region IX Division I volleyball tournament which begins Wednesday at Swede Erickson Thunderbird Gymnasium in Casper, Wyo.
The McCook Community College volleyball team earns the third seed in the south division and will open the Region IX tournament Wednesday morning at 8 a.m. (MT) with a match against the north division's No. 6 seed, Western Wyoming (0-7 in north region play and 3-11 overall.) This is one of four play-in games with the winners moving on to the double elimination portion of the schedule Wednesday afternoon. The losers will be finished for the season.
Like most of the teams in the tournament, COVID-19 affected Western Wyoming's schedule. The Mustangs' first four matches were postponed and the team didn't play its first game until Feb. 9. Three other matches were postponed and a March 24 match at Eastern Wyoming was cancelled.
The Mustangs three wins included a 3-2 win over Williston (N.D.) on Feb. 12; a 3-1 win over Dawson Community College (Glendive, Mont.) on Feb. 13 and a 3-1 win over Colorado Northwestern (Rangely, Colo.).  Western Wyoming has lost nine straight matches.
Other play-in games Wednesday morning include Laramie County CC vs. Lamar (8 a.m. MT), Eastern Wyoming at Trinidad State (10 a.m. MT) and Otero Junior College against Northwest Wyoming (10 a.m. MT).
A win by the Lady Indians against Western Wyoming would place them in a 1 p.m. (MT) game against Central Wyoming (14-8). Those two teams opened the regular season Jan. 22 in the Western Nebraska Community College Crossover Classic Tournament in Scottsbluff. MCC won that match in five sets.
A second match win Wednesday would put MCC into the semi-finals of the winner's bracket Thursday against the winner of top-seeded Western Nebraska's opening round match with the winner of the Eastern Wyoming/Trinidad State match.
The Lady Indians finished in a third-place tie in the south sub-region with Otero Junior College with 5-5 records in the south, but MCC earned the third seed in a tie-breaker scenario with a better record in sets against teams in the south. MCC was 17-15 while Otero was 15-16. The two teams split their two matches this season, with both teams winning at home.
Western Nebraska (23-5, ranked No. 11 in Monday's Top 20 rankings) earned the top seed in the south with a 10-0 mark, Northeastern Junior College (ranked 12th with a 17-7 record) was second at 5-1, MCC gets the third seed, Otero (9-11) the fourth, Trinidad State (2-5, 2-18) was the fifth seed and Lamar (0-23, 0-8) finished sixth.
Casper College was the top seed in the north at 9-1, (15-9 overall) followed by Central Wyoming (14-8, 7-3), Laramie County CC (10-9, 6-4), Eastern Wyoming (13-11, 4-4), Northwest College (12-10, 2-7) and Western Wyoming (2-11, 0-9).
Two teams out of this tournament will advance to the National Championship Tournament: the team that wins the championship bracket and the winner of the consolation bracket. The Finals will be played at the West Plains Civic Center in West Plains, Mo. on April 15-17.
Region IX Standings
NORTH SUB-REGION
Casper College                9-1      .900
Central Wyoming CC      7-3      .700
Laramie County CC        6-4 * .600
Eastern Wyoming            4-4      .500
Northwest College           2-7 * .285
Western Wyoming           0-9      .000
  * – Includes an LCC forfeit win over Northwest College
SOUTH SUB-REGION
Western Nebraska          9-0   1.000
Northeastern JC              5-1      .833
* McCook CC                   5-5      .500
* Otero Junior College    5-5      .500
Trinidad State JC             2-5      .286
Lamar CC                         0-9      .000
* – MCC wins tie-breaker with better set record (17-15) over Otero (15-16)
Region IX Tournament
WEDNESDAY'S SCHEDULE (All times MT)
Match 1 – Laramie CC vs. Lamar, 8 a.m.
March 2 – McCook CC vs. Western Wyoming 8 a.m.
Match 3 – Eastern Wyoming vs. Trinidad State, 10 a.m.
Match 4 – Otero Junior College vs. Northwest Wyoming, 10 a.m.
Match 5 – Central Wyoming vs. McCook/Western Wyo. winner, 1 p.m.
Match 6 – Northeastern JC vs. Lamar/Laramie County winner, 3 p.m.
Match 7 – Western Nebraska vs. Otero JC/Northwest Wyo, winner, 5 p.m.
Match 8 – Casper College vs. Eastern Wyo./Trinidad State winner, 7 p.m.
THURSDAY'S SCHEDULE (All times MT)
Matches 9-12 loser's bracket games at noon, 2 p.m. 4 p.m., 6 p.m.
FRIDAY'S SCHEDULE (All times MT)
Matches 13, noon
Match 14, 2 p.m.
Match 15, 4 p.m. (Winner's bracket champ is Region IX, Northwest Plains A Champion)
SATURDAY'S SCHEDULE (All times MT)
Match 16, noon
Match 17, 4 p.m. (Consolation bracket winner is Region IX, Northwest Plains B Champion)