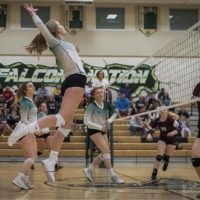 Anna Williams, a 5-10 outside hitter from Peyton, Colo. signed her national letter of intent Tuesday to play volleyball in the fall for McCook Community College.
Williams is an opposite-side hitter from Falcon High School where she had the 10th most kills for players in Class 4A as a junior with 149 in 71 sets. She had a hitting percent of 46 and a kill percent of 29.6 along with 63 serving aces. She is a two-time letter winner in volleyball having played club volleyball for HotShotz Volleyball Club in Colorado Springs for four seasons. Because of Covid-19, Colorado moved volleyball from the fall of 2020 to the spring of 2021 so Anna has not competed in her senior year of competition.
"Anna has all the qualities that we push for in our culture," said MCC Coach Hayley Kobza. "She is a hard worker, goal setter, and puts academics first."
Academically, Williams maintains a 4.25 grade-point-average, ranking fourth in her class and has received five academic letters. She is the vice president of the National Honor Society, a two-year core leader for student 2 Student, a member of the school's orchestra as a first-chair violinist and the Tri-M Music Honor Society Treasurer.
She was named to the 2019 Colorado High School State Athletic Association's academic first team all-state.
"After talking to the current team and the coaches, I really felt like this team is a big family. This is what I have been wanting to find in a college team," she said. "I also really liked how MCC volunteers a lot in the community. I have spent most of high school running groups and clubs that volunteer in Colorado Springs. This made me want to become a Lady Indian even more."
She said after meeting members of the MCC team, Sophomore Mackenzie Anderson (Hyannis,) was influential on her decision to commit to McCook.
"Mac gave me a lot of feedback while we were practicing and I really appreciated that! I also felt like it was pretty easy to talk to all of the players," she said. "I was pretty nervous going into the visit, but I felt very welcomed by the entire team and the coaches."
She said she's really looking forward to playing in the Peter and Dolores Graff Events Center.
She plans to major in athletic training.
"Anna wants to continue with her volleyball career after MCC, so I know she will come in and push herself to be the best she can be for those future opportunities," Kobza said.
Anna said her parents have had a profound impact in getting her to this point in her life.
"My mom, Jodi Williams, always pushes me to try my best, even when I feel like I am struggling. She has a very positive outlook of life, which radiates in everything she does. She is my biggest supporter and my best friend."
She said her dad, Jim Williams, constantly inspires her with his good work ethic. "His drive in everything he does makes me want to be the same way. He has also taught me that being competitive is not always a bad thing," she said.
Her favorite quote comes from Alabama Football Coach Nick Saban: "Focus on the process of what it takes to be successful." She said she relates to this quote because she likes to plan ahead with everything she does.