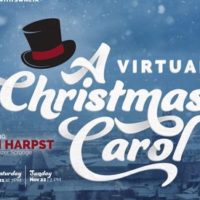 Charles Dickens' heartwarming, holiday classic "A Christmas Carol" returns to virtual life in an online live streaming collaboration between McCook Community College Theatre and Southwest Nebraska Community Theatre Association.
Performances are set for Friday and Saturday at 7 p.m. and a Sunday matinee at 2 p.m.
Tickets and the streaming venue went on sale Nov. 16 at: https://www.showtix4u.com/event-details/42802
More information and the ticket link may be found at www.cutlassartists.com
Tickets are $9 for individuals and $30 for families (ticketing fees will be applied to your purchase).
"A Christmas Carol" has been a tradition in McCook going back to 1993 when Sue Watts, instructor of theatre at MCC established the biennial production.
Returning to the role of Ebeneezer Scrooge this year will be Don Harpst as the perennial Scrooge. Harpst has been long-loved for his portrayal of the role which balances the greed of Scrooge with his joyful redemption.
"Bringing back the show with Don in the lead is an important reclamation of the tradition," said Mark Hardiman, director and adapter of the script for this virtual performance.
"I think people around McCook look forward to it. It has just been a part of the holiday season. That's why people will be glad to have it revived." said Harpst.
Charlie Coleman, who plays the Ghost of Christmas Present said, "I have been able to be an audience for this for years. This year it is really a pleasure to be involved with it by being in the cast. Just to have the chance to do something connected is wonderful with theatre, since we were basically shut down. Covid has opened our eyes to doing new things and new ways and new ways of connecting."
This lean online production clocks in at just over an hour. The adaptation was developed from successful stage versions authored by Hardiman. Recognizing the advantages of having a performance stream directly into homes, this presentation emphasizes Charles Dickens' beautiful narrative.
Beth Hoyt, an MCC Alum, returns to play the Ghost of Christmas Past in this virtual production. "My mom would read us 'A Christmas Carol' every other year. Being able to play Christmas Past is something I have always wanted to do," she said.
"There is an intimacy in this production," said Hardiman. "The characters are speaking directly to you through the lens and into your homes." The production will use Zoom and ShowTix4u to accomplish this streaming production that will appear on computer screens and other internet devices for individuals and families.
"We hope folks will gather around and enjoy this tale and its important message. I have spent years working for charity organizations and it is so important for people to give back to their community," said Harpst.
McCook Community College Theatre department has a full program of classes for those interested in theatre with classes that cover both academic and performance skills for anyone wanting to expand their horizons, or those wanting to transfer to senior institutions in theatre.
For more information on the production or MCC Theatre contact Mark Hardiman, hardimanm@mpcc.edu