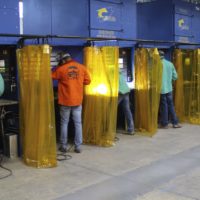 Since more area high school students signed up for welding classes this fall, McCook Community College's welding program added two new sections of welding to accommodate that interest. The semester began with the highest number of high school students ever enrolled in MCC's welding classes, and also the highest number of second-year students.
"We hope those numbers and the interest in welding continues to grow in the area, we would welcome the challenge of adding a more sections," said MCC Welding Instructor Scott Smalley.
There are several factors driving the numbers according to Smalley but he thinks there is room for even more improvement as high schools adjust curriculum, dual-credit options and more flexible class scheduling.
When MCC looked at registration numbers late summer, there were 19 high school students enrolled in MCC's first and second-year welding classes. When you add the usual number of incoming college freshmen, MCC added a second-section of classes for first-year students. But there was also a higher return rate among high schoolers returning for the second-year classes, so MCC added a second section of that class.
Smalley said part of the reason MCC is seeing an increase in second-year students is that some high schools are allowing juniors to take dual-credit classes which gives them the chance to take welding classes for two years.
"In the past a high school senior might take one year of welding, then graduate and go on to something else," Smalley said. "Now juniors are taking the first-year classes and returning for the second year."
High School juniors who enroll in the dual credit classes in the fall can complete nine college credits before they graduate and those transfer for full credits toward the Associate's Degree.
Smalley also believes that with high schools putting more of an emphasis in the applied technology classes, he's seeing more farm kids taking advantage of the skills they can use on the farm. Also McCook High School's FFA program is promoting MCC's welding program as a way for members to improve in district and state skills contests.
Smalley said that the addition of having Jeff Holthus on staff has also helped. After spending the previous six years in McCook Public schools teaching health and physical education, Holthus went through the MCC welding program last year after working part-time as the program's welding lab technician. He also is able to teach dual-credit classes.
Holthus said he is looking forward to helping building up the program and working with students who want to go into welding.
"These students are here because they want to be here, and because of that, they are pretty dedicated."
He believes these high school students who enroll in welding will gain an advantage in an industry where the demand is higher than ever.
"Older welders are retiring, and those jobs need to be replenished. As instructors it's important to let these students know what the job market looks like and make sure these students know the sky is the limit as far as opportunities," Holthus said.
MCC offers both a Welding Technology Diploma and a Welding Technology, Associate's degree.
The Welding Technology diploma is intended for students wanting to gain hands-on welding skills and knowledge to enter the welding industry. Students must complete the 45 semester credit hours of program specific welding classes for this diploma.
For the associate's degree, 60 hours of course work is required including, Arc/Gas welding, TIG and MIG welding, metals and metallurgy, print reading, prefabrication, applied math, plate and pipe pre-qualification, codes and standards, project layout, qualification and an internship.
For more information on the welding program at MCC please visit the Course Catalog on the Mid-Plains Community College web site at: https://catalog.mpcc.edu/course-catalog/programs/welding-technology/