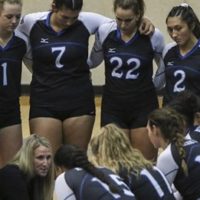 The United State Marine Corps (USMC) and the American Volleyball Coaches Association (AVCA) announced Monday that McCook Community College was among the teams that earned the USMC/AVCA Team Academic Award for the 2019-2020 season.
"Coaches have the most influence during difficult times," said AVCA Executive Director Kathy DeBoer. "Keeping student-athletes focused on their academic success when their volleyball identity was suddenly gone is leadership worth celebrating!"
MCC was one of 32 two-year schools and the only Region IX Division I school to earn this academic distinction – a grade-point average higher than 3.30.
In terms of USMC/AVCA Team Academic Award winners by subgroup, girls high school led the way with 461 recipients. In all three NCAA Women's Divisions, more than 50 percent of the membership won the award, led by 68 percent in DI, 57 percent in DII and 53 percent in DIII. A record number of teams – 1,313 in all divisions earned the 2019-2020 academic distinctions.
The AVCA also recognized six 2019 National Championship winners that also excelled in the classroom: Stanford University (NCAA Division I), Cal State San Bernardino (NCAA Division II), Johns Hopkins University (NCAA DIII), Marian University (NAIA Women), Scottsdale (NJCAA DII), and Bob Jones University (NCCAA DII).