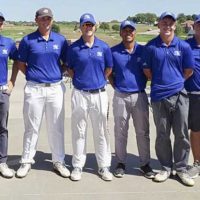 The National Junior College Athletic Association has announced that McCook Community College's golf team has been named the top academic golf team in the nation compiling a 3.67 grade-point average.
The MCC golf team was one of 27 programs from across the nation to earn NJCAA academic team of the year designation for their respective sport throughout the academic year.
"Given the fact that we were gearing up for a run at qualifying for Nationals and extremely eager to start our spring season when all of a sudden we were just done and my players were all back home — this is the best possible outcome to cap off the year," said MCC Golf Coach Tyler Loop.
The Indians had the top academic scores from among 180 junior college golf programs across the nation. There were 58 men's golf programs that compiled a composite team GPA better than 3.0
"This was quite an honor for our golf program," said MCC Athletic Director Jon Olsen. "I felt they may have a shot once I figured their team GPA so it was exciting to see when it was announced, just happy for Coach Loop and his group of guys."
Six members of the team were named last week to the all-Region IX academic team with GPAs better than 3.25 including Denis Sari, (Koblenz, Germany) who was named first team NJCAA all-academic team with a 4.0 GPA; KC Carlson (Delta, Colo.) who was named second team with a GPA between 3.80-3.99; Trevor Oberg (McCook) and Kyle Zimbleman (North Platte) who were named to the third team with GPAs between 3.60-3.79 and Koji Santos (Melbourne, Australia) who was named to the academic all-Region IX team.
"This is such an amazing accomplishment and so excited that these guys were awarded this in these difficult circumstances," Loop said.
The MCC volleyball program, with a GPA of 3.48 was cited among the 148 volleyball programs with composite team GPAs better than 3.0.
Daytona State (Fla.) continued to set the standard among NJCAA baseball programs as the Falcons recorded the highest GPA among all teams for the ninth consecutive year, and 13th in the last 14 seasons, with a 3.85 mark. Along with the Falcons, the Iowa Central men's bowling team, El Paso (Texas) men's half marathon, Monroe (N.Y.) women's indoor and outdoor track and field teams, and the Pratt wrestling team were all repeat winners from the 2018-19 year.
Emory Oxford (Ga.) earned an NJCAA-best three academic team of the year recipients in its women's golf, men's basketball, and men's soccer programs. Three programs combined their academic success and athletic accomplishments. El Paso men's half marathon, Iowa Central women's half marathon, and Iowa Central women's bowling all claimed national championships during the year while also earning NJCAA Academic Team of the Year recognition.
In what the NJCAA called an academic year with "unprecedented challenges" 9,555 student-athletes garnered All-Academic recognition for achieving a GPA above 3.6. and 1,026 teams earned at least a 3.0 grade-point average (GPA) or better.
"NJCAA student-athletes proved that no obstacle is too difficult to overcome," stated NJCAA President & CEO Dr. Christopher Parker. "These difficulties pushed our student-athletes to the limit this year, but the opportunity to overcome these challenges presented itself and our student-athletes flourished academically. The association commends all individuals for their continued success on the playing surfaces and in the classrooms."
Last week, it was announced that 24 student athletes from MCC were named to one of three National Junior College Athletic Association's (NJCAA) all-academic teams for 2020, and 38 MCC student athletes were named to the Academic All-Region team with a minimum grade-point average of 3.25.