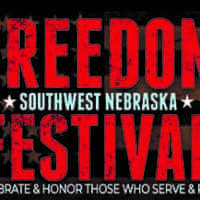 THE SOUTHWEST NEBRASKA FREEDOM FESTIVAL IS THURSDAY JULY 2ND, AT 6:30PM AT THE RED WILLOW COUNTY FAIRGROUNDS.
2020 HAS TAUGHT US THAT APPRECIATING OUR FREEDOM IS MORE IMPORTANT THAN EVER.
LET'S CELEBRATE THE MEN AND WOMEN WHO MAKE DIALY SACRIFICES TO KEEP US FREE AND SAFE.
BRING YOUR BAG CHAIR AND COME FOR A NIGHT THE WHOLE FAMILY CAN ENJOY.
DELICIOUS FOOD AND GREAT LIVE MUSIC AND FIREWORKS SHOW AFTER DARK.
HELP THE MCCOOK CHRISTIAN CHURCH HONOR OUR HEROES AT THE SOUTHWEST NEBRASKA.
THANK YOU TO THE FOLLOWING SPONSORS: 
VALMONT
COMMUNITY HOSPITAL
DEVENY MOTORS
KOCH SEED AND AGRONOMY
CARPRENTER BRELAND FUNERAL HOME AND MONUMENT
FARRELLS PHARMACY
MAC'S DRIVE INN
OLSON AG SUPPLY