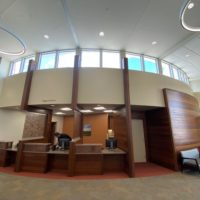 Next week, patients with appointments at the Medical Specialists Center will be the first to see their physician in a beautiful new facility. As part of the completion of Phase 1A of the building project, Community Hospital's Medical Specialists Center will move into the new facility over the weekend. The specialists center and Central Scheduling (308-344-8285) will be closed on Friday, June 26. On Monday, June 29, the center will be operating in the new space.
Patients with appointments at the Medical Specialists Center should go to the hospital front entrance (lobby). They will be escorted over to the new specialists center to check in. Patients are allowed one visitor/support person with them. When arriving, they will be screened in the hospital lobby. Both should bring a mask and wear the mask the entire time they are in the facility. No visitors under the age of 19 are allowed in the hospital.
For now, the new entrance to the Medical Specialists Center and future Cardiopulmonary Rehabilitation Center is still under construction. Once the remodel of the former Medical Specialists Center is completed in the next 12 months, patients will be able to enter into those areas from the outside new driveway and overhang on the northeast side of Community Hospital.
The new space highlights an eye appealing entrance, check-in and waiting area. The facility was designed to improve patient flow, assist in efficient operations, enhance privacy and increase patient satisfaction.
Community Hospital is very proud of its Medical Specialists Center and services, where more than 30 visiting specialists provide care to McCook and the surrounding area. Bringing specialists to southwest Nebraska allows people to stay close to home, but still have access to specialized medical care.
For more information on specialists who see patients at Community Hospital, go to www.chmccook.org.