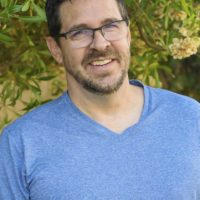 Rick Brown, a Wyoming native who spent many years working in technology, is returning to college volleyball as Assistant Coach at McCook Community College. He will also serve as a Residence Life Assistant in Brooks Hall.
Brown worked from 2006-2018 as a technology solutions sales professional in the "Four Corners" states of Arizona, New Mexico, Utah and Colorado.
"I left that career a year and a half ago to pursue coaching full-time. I missed the relationships that are developed, and working together on common goals," Brown said. "I love pushing the players to be their best, even when they don't think they are able to give any more."
"I am super excited to have Coach Brown on board, I can tell he loves the sport and he is going to be a huge help in many different aspects," said MCC Coach Hayley Kobza. "I think he will fit right into the MCC and McCook families right away."
In 2018 Brown joined the college volleyball scouting staff for the National Scouting Report based out of Birmingham, Ala. He also served as head JV Volleyball Coach at Combs High School in San Tan Valley (Arizona) for the past year and as the head high school coach at Basis Ed in Mesa, Ariz., in 2018 and 2019.
Brown said Combs is a 4A program that had not experienced a lot of success, until finishing second in the conference this past season. He credits the hard work of the players, improvement of skills and a buy-in to the strategies implemented. During the season, four of his junior varsity players improved enough to move on to varsity.  "I'm very proud of how hard they worked to make that transition."
Brown grew up in Torrington, Wyo. and was an assistant coach for the Eastern Wyoming College program, under Hall-Of-Fame Coach, Verl Petsch. The team qualified for the national tournament twice between 1991 and 1995 and had more than 225 wins.
"Our rosters back then look very similar to ours at MCC today," Brown said. "We had girls from small towns across Nebraska, Colorado, Utah, and Wyoming. The best thing was, those girls knew how to work toward their goals, and we helped them accomplish them."
After receiving his associate's degree at Eastern Wyoming in Management Information Systems in 1989, he received his bachelor's degree in Computer Information Systems in 1990 at Northern Arizona University.
Brown said that after living in the Phoenix metro area since 1996, he is excited to get back to a community similar to Torrington with "good, honest, hard-working, caring people."
"I've really enjoyed getting to know Coach Kobza over the past few weeks. She's built a great program here, and I am excited to work with her, and to learn more from her and the team," Brown said. "I'm looking forward to supporting students both as an assistant coach and in the dorms."
He takes over the assistant coaching duties from Emily Deines, who has taken a step back to focus on her career but will continue helping out the Lady Indians as a volunteer assistant along with: Whitney Kuhlen, Athena Messinger, Nick Nothnagel and Jasmine Pritchett.
The 2020 volleyball season is set to begin Aug. 21 at home in the Peter and Dolores Graff Events Center when the Lady Indians host the two-day MCC Invite.