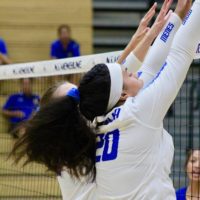 Amerika "Rika" Jones, a 6-0 middle blocker from Hawaii will join the McCook Community College volleyball team as a walk-on for the 2020 season.
"Rika is going to be a competitor and is not only going to push herself, but her teammates too," said MCC Coach Hayley Kobza. "With her height and skill level, it will be a good competitive fight for our middles to see the court."
At Moanalua High School in Honolulu, Jones earned team spirit awards all four years from high school as well as a team player award for a team that went 20-7-1 overall and finished fifth in the final Hawaii Division 1 rankings.
"I'm really excited to meet new people and make new connections outside of my island," she said. Numerous students from Hawaii have attended MCC over the years and many experience snow for the first time on campus, but Rika has seen snow a few times on volleyball trips, "but I am so excited to be surrounded by it."
She picked MCC because she thought of all the schools she was considering, McCook was the one she thought would benefit her most. When asked who she looks up to the most and why, she said: "My parents because they work hard all day every day to make sure my siblings and I can do what we want to do with our lives."
When her coach asked her if she had any talents she said, "If I do, that talent is hidden from me too."
"Rica is excited to be coming to MCC and has a great personality, so I think she will fit in great here."
The 2020 volleyball season is set to begin Aug. 21 at home in the Peter and Dolores Graff Events Center when the Lady Indians host the two-day MCC Invite.