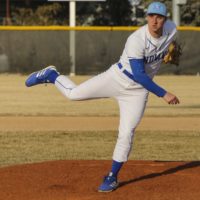 A pair of McCook Community College baseball players have signed on to play baseball next season with four-year schools. Connor McGonigal has signed on to continue his baseball career at William Jewel University, a Division II school in Liberty, Mo. and Nick Wellman is moving on to Division I Austin Peay University in Clarksville, Tenn.
"I'm just really happy for both of them," said MCC Coach Jon Olsen. "It was good to see them both find a place to go next year following what was a disappointing ending to our spring when we got cancelled."
The Indians were in first-place in the Region IX Empire League standings at 6-3 when the National Junior College Athletic Association cancelled all spring sports on March 16.
McGonigal, a 5-10 right-handed pitcher from Omaha Burke High School, competed as a freshman in 2018, then sat out the 2019 season with a medical redshirt.
"Connor has been at McCook three years and has seen his share of tough luck so I am happy he has signed with William Jewel," Olsen said.
McGonigal returned to the mound Opening Day and saved a 19-16 game against North Lake College in Texas on Feb. 7. He also picked up wins Feb. 12 at Garden City and Feb. 18 at home against Colby compiling a 2.25 ERA through February, before a couple rough innings in March inflated his final numbers.
"In Connor's first year he was in our rotation and did a nice job, then his second year he had to have hip surgery and unfortunately missed the whole season, he worked very hard to get back and ready to play, and was really coming into his own to have a nice role for us this year, then for the second year in a row really hit some tough luck."
McGonigal appeared in seven games this season and went 2-0 with a save. He struck out 10 hitters in 10.1 innings of work, and walked six, surrendering 12 earned runs and 23 hits allowed.
"Connor is a great kid and even better teammate and I am very happy that he settled on William Jewel for next year," Olsen said. "I wish him the best of luck. He has been a big part of our program for the past three years."
Wellman, a 6-0 right-handed redshirt sophomore from Quincy Notre Dame High School in Illinois appeared in eight games and saved four of them. In nine innings of work, he allowed six hits, walked three and struck out 20 batters, posting a 3.00 earned run average.
"Nick was really coming into his own right when we got shut down, our last full week. He recorded three saves, was named Region IX pitcher of the week," Olsen said. "He was locking down the closer role for us."
In a weekend series at Lamar on March 7-9, Wellman helped the Indians to a three-game sweep over the Lopes, picking up saves in two of those games. For the week, he made three appearances over four innings, striking out nine hitters and notching the three saves. MCC went 4-1 that week and Wellman was selected as the Region IX pitcher of what turned out to be the final week of the season.
"Nick is a really talented arm and more importantly an excellent student, he is going to do very well at Austin Peay," Olsen said.
Olsen said Wellman is the third former Indian to go on to play for the Governors at Austin Peay.
"They have all loved it and I am expecting Nick to have a great experience," Olsen said.
Wellman follows the paths of MCC closer Mike Hebert who went to Austin Peay following the 2010 season and Jake Peterson, who played second base for McCook in 2002 and went on to play for the Governors in 2004 and 2005.