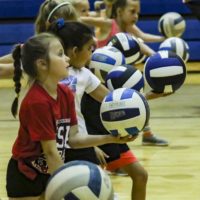 McCook Community College will conduct three youth volleyball camps this summer, closely following guidelines from the Nebraska Department of Health and Human Services. Camps are set for July 22-24 at the Peter and Dolores Graff Events Center.
"We will continue monitoring the directed health measures for limited contact sports including volleyball, and we will make any necessary changes to provide a safe, fun and valuable camp experience," said MCC Volleyball Coach and Camp Director Hayley Kobza.
The camp for girls in kindergarten through second grade is set for Wednesday, July 22, from 9 a.m.-noon. Cost is $35.
Camp for girls in third through fifth grade will be Friday, July 24, from 9 a.m.-4 p.m. Cost is $50.
A two-day camp for girls in the sixth through eighth grade will start at 1-4 p.m. July 22 and continue to 9 a.m.-4 p.m. July 23. Cost is $75.
During the two day-long sessions, campers will have a lunch break from noon-1 p.m. Campers can bring their own lunch or leave to eat, but meals will not be provided.
Camp size is limited. Campers will be accepted on a first-come, first-served basis. Registration for all camps will be online through the McCook Community College Indian Athletics web site:
https://form.jotform.com/201627066242146
Kobza said some of the changes at this year's camp address social and physical distancing between players as much as possible. That means additional spacing between players during drills, or while waiting to participate. Also, players must take their own water or other beverage to consume during and after practice. No shared drinking fountains or coolers are allowed and players must take their own snacks. Parents will not be allowed to stay and watch the camps this year.
College and camp staff will follow directed health measures for disinfecting equipment and the facility to ensure the health and safety of all attendees.
"This year's camp will be different from previous years, and we will continue to rely on the state's most up-to-date guidelines and address any changes that happen between now and then," Kobza said.
Kobza is entering her fifth season at MCC, coming off a 25-12 season and back-to-back Nebraska Community College Athletic Conference championships. She has spent 10 years coaching and working in the education field. She has helped send 15 junior college players on to play at the four-year level including every sophomore (11 in all) for the past two seasons.
This year's camp includes, an experienced staff, a free camp T-shirt, individual camp awards and free entry into the Wild West All-Star Volleyball Classic July 26.
Camp staff will feature current MCC volleyball players: Jayceea Hanson, McCook; Kallie Cathcart, Holly, Colo.; Mackenzie Anderson, Ogallala, Emily Barr, Hershey; Evie Hopkinson, Spanish Fork, Utah; Jordan Jerome, Rawlins, Wyo.; Elsa Mondragon, Topeka, Kylee Palmieri, Gibbon, Suzy Cordova, Fort Collins, and Janie Sommer, Maxwell.
For more information contact Coach Hayley Kobza at (254) 433-1968 or email at: kobzah@mpcc.edu