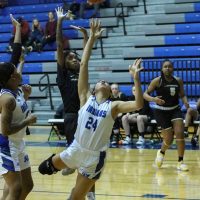 The McCook Community College women's basketball team came up with some defensive stops in the first half and got into an offensive rhythm in the second half to snap a three-game losing streak on the way to a 82-71 win over Northeastern Junior College Friday in the Peter and Dolores Graff Events Center.
"NJC played Western to 12 points and we knew they were going to be tough, they are always tough," said MCC Coach Brandon Pritchett. "They were second in the region last year. They have pretty good pieces, talented girls and we had to fight hard and battle."The Plainswomen jumped out to a nine-point lead at the 4:26 mark of the first period. MCC's leading scorer, sophomore Makenna Bodette (Colorado Springs) picked up her second foul and went to the bench. It was the first of two big adjustments the Lady Indians made on the night.  With Makenna in foul trouble we sat her pretty much for a quarter and a half and so we had to go to a smaller lineup," Pritchett.
Sophomore Sydney Sandford (Missouri City, Texas), freshman Gail Whiting (Montgomery, Ala.) and redshirt freshman transfer Jessika Espinoza, (El Paso, Texas) Western New Mexico University, had to pick up the defensive slack. "Those three had to step up with Makenna out and they had to guard bigger," Pritchett said.  The coach pointed out that NJC got five offensive rebounds in the first quarter but credits the trio with not giving up a single offensive board in the second quarter. "That's all just heart and determination," Pritchett said. NJC led 22-20 after 10 minutes but the Lady Indians fought back to lead at the half 39-38
The teams traded leads 10 times and were tied four times in the final 20 minutes before MCC made its second big adjustment in the game when the team started firing on all offensive cylinders – keyed by a barrage from the 3-point line. In the first half, MCC out-scored NJC from the 3-point line 18-9 hitting on six of 19 long-range shots (31.6 percent). But when the smoke cleared, the Lady Indians sank 10 of 13 3-pointers in the second half (76.9 percent).
Freshman Amiya Dartest (Jennings, La.) lit it up with seven 3-pointers on eight attempts in the second half alone and finished with a game-high 26 points. "In the second half we finally found our rhythm shooting the ball," Pritchett said. "We kind of lost it for three games but with Amiya making eight 3-pointers really sent us over the top." Six Lady Indians hit from the 3-point line as the team made 16 of 32 shots. Overall MCC shot 41.8 percent from the field and made just 10 of 20 free throws. NJC shot 37.3 percent from the floor and six for 18 from the arc (33.3 percent, and 13 of 20 from the free throw line (65 percent.)
Sophomore transfer Paula Rosello Mateu, (Barcelona, Spain) Miles Community College (Mont.) scored 13 points, and had four assists. Bodette ended up with 11 points and six rebounds. Carla Torrubia Cano had 10 points and a game-high 13 rebounds. Whiting had eight points and seven rebounds and freshman Niamh Kelshaw (Manchester, England) had nine points on a three-for-four night from the 3-point line.
"We still have to do a better job executing but tonight, we made big plays," Pritchett said.
Northeastern falls to 8-9 on the season and 0-2 in the south-sub region.