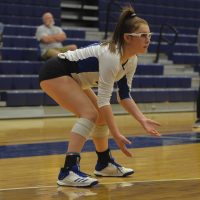 Eisa Mondragon, defensive specialist from Washburn Rural High School in Kansas, is the latest volleyball player to commit to McCook Community College. She signed her national letter of intent Thursday.
"She was actually my first commitment for my 2020 class and I just know she will come in and push not only herself, but her teammates as well," said MCC Volleyball Coach Hayley Kobza. "I am so excited to have Eisa be a part of our MCC volleyball family."
Mondragon's high school team, the Blues, finished 38-6 and ended this past fall ranked second in the Kansas Class 6A rankings under Coach Kevin Bordewick
She is a four-time USA Volleyball GJNC-national qualifier. She was named to the first-team All-Centennial League, first-team all-city, first-team Kansas 6A State Tournament team and second-team Kansas Volleyball Association 6A all-state.
"Coach Kobza and the athletic department are in the process of building a winning tradition with good players and great facilities and I want to be a part of that," she said.
Mondragon said she looks up to her dad because "He is the most hardworking person I know." She said she will miss her high school teammates because of the close family-like relationships that they enjoyed. Her favorite comes from Henry Ford, "Whether you think can or think you can't you're right."
At MCC she plans to study human anatomy.
"She comes from a great program and knows how to lead a team to succeed. If a freshman can come in and carry herself in that leadership role she is going to do great things," Kobza said.