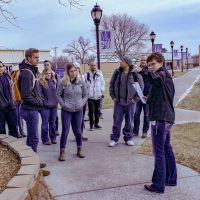 Spring classes begin this week at McCook Community College and college officials have announced some of the key dates for key events this semester.
The Peter and Dolores Graff Events Center will host four home MCC basketball games this week (Friday 5:30 and 7:30 p.m. and Saturday 2 and 4 p.m.) and one more home game later this month (a women's game Jan 29 at 6 p.m.) In addition to the MCC games, the Events Center will host several other events in the coming weeks including:
Jan. 14: Chase County vs. Southern Valley Basketball.
Jan. 25 – The Mac Attack Youth Basketball Tournament
Jan. 30 – McCook High School Wrestling Invitational
On Feb. 1, The Republican Plains Activities Conference Basketball Finals take place at the Events Center to kick off a busy month with 13 home MCC women and men's basketball games.  Phi Theta Kappa and Phi Beta Lambda will team up for the annual "Blue-Out Night" Feb. 8 during women's and men's basketball games against Central Community College to help raise awareness for children. Last year, more than $600 was raised to help bring awareness for children with disabilities and their families.
The Dick Driml Chili Cookoff – an annual fund-raiser for the MCC Music Department — is set for Feb. 15 when MCC plays Otero Junior College in a women's doubleheader starting at 2 p.m. MCC's annual Inter-high Day Scholastic Competition is set for March 11 with area high school students competing for nearly $30,000 in scholarship money in numerous academic categories.
Spring Break is set for March 23-37.
The McCook Art Department's annual high school paint-in art exhibit will be showcased in the Wrightstone Fine Arts Gallery from March 23-April 9. This exhibition includes more than 200 works of art from area high school students and concludes with the annual paint-in competition Thursday, April 9 from 9 a.m.-2 p.m. in the Peter and Dolores Graff Events Center. Three awards ceremonies are set for April 27 in the Events Center including the Phi Theta Kappa Initiation Ceremony, Honor's Convocation and Athletic Banquet.
Final exams are set for May 3-7 and MCC Commencement will be May 8 at 10 p.m.