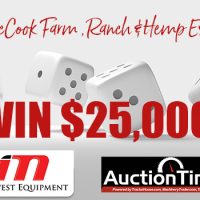 Midwest Equipment Auctions and High Plains Radio present the $25,000 roll!
The first 100 people at the McCook Farm and Ranch and Hemp Expo in McCook on November 20th at 5:00 will get a chance to roll the dice. Spell out "PRIZE" and you win $25,000.
You can also get a second chance to win a $2,500 fire pit!