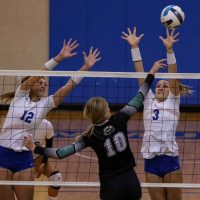 The McCook Community College volleyball team came up with a five-set win over Central Community College-Columbus Wednesday night winning 21-25, 25-17, 25-19, 11-25, 18-16.
MCC Coach Hayley Kobza said the match was somewhat reflective of us her team this year. "Other than we usually come out like this in the first set, but tonight it was set four," Kobza said. "So the fact that we came back out and battled hard in the fifth and it was a whole different game — that's what it's about. Ending it that way instead of the negative side." Freshman Fernanda Canedo, (Cochabamba, Boliva) led MCC with 13 kills on the night. Sophomores Maddie Kleewein, (North Platte) and Mallory Brown, (Colorado Springs) both had 11. One area Kobza believes the team can improve is in diversifying the offensive attack.
"Columbus has like two really good hitters and we have six very phenomenal hitters and that's why I get so frustrated in time-outs, at times it looks like we only have one hitter but everybody on that court can swing," Kobza said. "I think our middles need to be calling for that ball and all of them need to be more of a threat for us on the net and sometimes I don't' think they were doing that to their full potential."
Freshman Kallie Cathcart, (Holly, Colo.) had seven kills and six assist blocks. Freshman Mackenzie Anderson, (Ogallala) was credited with six kills. Freshman Heiata Tauota, (Nantes, France) had 27 assists and freshman Madison Mendoza, (Ogallala) had 18. "We played some really good volleyball at times tonight, we have to build on that and perfect all the other stuff."
The win gives MCC the early lead in the Nebraska Community College Athletic Conference with a 1-0 mark in the five-game conference schedule. After a rare weekend off, the Lady Indians will take on conference foe Southeast Community College Tuesday at home at 6 p.m. That night has also been designated as Lymphoma Awareness Night. Southeast is 2-14 on the season and lost a three-match set to Central. Overall MCC goes to 11-6 on the season. "We still have some things to work on, we're still young and have a lot of room for improvement," Kobza said.
Following Tuesday's home match with Southeast, MCC will hit the road to begin Region IX South Play Sept. 27-28 with games at Otero Junior College and Trinidad State Junior College.