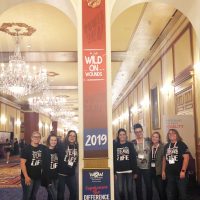 Seven Community Hospital nurses attended the Wild on Wounds Nation Wound Conference in Las Vegas last week and are wild about what they learned. "I am so passionate about wound care," said Bree Frazier, RN, Community Hospital Wound Care Coordinator. "I love the saying, 'don't just treat the hole in the patient, but rather treat the whole patient.'  Community Hospital is blessed to have a supportive, forward thinking administration that recognizes the value of continuing education for staff to deliver high-quality, evidence-based care to the people of McCook and Southwest Nebraska," she added.
This year's attendees from Community Hospital included: Frazier, Molly Olson, RN (Med-Surg day shift), Becca Mondero, RN (Med-Surg day shift), Kayley Schwing, RN (Med-Surg night shift), Morgan Coady, LPN (Home Health and Hospice), Allison Cappel, RN (Home Health and Hospice) and Carla Bundy, RN (Surgery). "(The conference training) opened my eyes as a home health and hospice nurse and has dramatically changed the way I will perform my position—from assessment to documentation and all other aspects going forward," said Cappel.
The Wild on Wounds conference, or WOW, was created for both the novice and experienced healthcare professional who are passionate about wound care. Hands-on sessions were thoughtfully designed on the 'learn it today and use it tomorrow' philosophy. Sessions enhance current knowledge of wounds and ostomies by presenting current standards of care and effective interventions to make a difference in patient's lives. Community Hospital nurses attended sessions such as "Wet to Dry: Substandard of Care," "Symptom Control for Malignant Wounds: Drugs to Dressings," and "Assessing the Whole Patient—Not Just the Hole in the Patient," along with numerous other sessions. They discussed various wound care products with vendors, attended a lunch-and-learn session about Wound VAC therapy sponsored by Acelity (KCI), and had fun at a conference-sponsored, networking, roof-top party underneath the Eifel Tower replica of the Paris Hotel.
"I was very encouraged to realize how robust our wound care is at Community Hospital," said Olson. "Especially when it comes to VAC therapy—we are successfully healing wounds using a technology that many facilities have not adopted yet." Community Hospital has sent a delegation of nurses to the WOW conference every year since 2014.  Previous WOW attendees include: Paulette Burkhardt, RN (Patient Education), Walter Eskildsen, MD (General Surgeon), Bronwyn Beasley, RN (Med-Surg day shift), Elizabeth Breckner, RN (Med-Surg night shift), Cheney Maddux, RN (Med-Surg night shift), Kristi Huff, RN (Surgery), Kami Foster, RN (Home Health and Hospice), Rebecca Felker, LPN (Home Health and Hospice), Peg Smalley, RN (Injection/Infusion) and Cheri Fune, RN (Injection/Infusion).