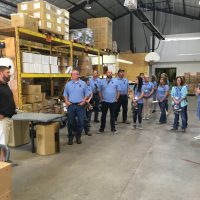 Members of the 2019 Southwest Nebraska Leadership Institute learned about bull semen, efficient farming practices and Nebraska brands by participating in Ag Day on September 11. The 17-member class began the day with leadership training at McCook Community College. MCC teacher, Lorrie Mowry, Business Instructor, taught the leadership concept of "Model the Way."
Fred Smith and Jennifer Myers spoke to them at the Nebraska Bull Service just northwest of McCook. They traveled to MNB Bank where they heard from Launy Ringleman and CJ Fell, representing the Nebraska Brand Committee. They also heard a banker's perspective about agriculture from MNB Bank employee, Brian Strauch.
Following lunch provided by MNB Bank, leadership institute members traveled to Golight Inc. Neil Gohl explained the inception and development of Golight and how the spot lights are used on anything from military vehicles to boats, to farm equipment.
The group ended the day at Schafer Farms, learning how Brian and Donita Schafer use efficiency, time management, state-of-the art equipment and technology to manage their farm.
Mollie Fanning and Brolin Morgan organized the day with direction from Brad Hays, Institute President and Ag Day mentor.
This year's members include: Colette Balderston, Seth Bates, Dawson Bredvick, Candace Colemen, Candy Crosby, Drew Daum, Mollie Fanning, Sandra Gray, Mark Griffin, Molly Herzberg, Kevin Hodgson, Kortney Huxoll, Brolin Morgan, Steven Tucker, Shayne Vaught, Marie Wilkinson and Tim Zehnder.
The new members began the year with a class retreat July 16-17. During the retreat, they traveled to Wauneta Roller Mills, Wauneta; AKA Acres, Imperial; Crandle Creek Golf Course, Keith County EDC and Kingsley Dam, Ogallala on day one. The second day was spent learning about Buffalo Bill Ranch, Lincoln County Historical Museum, Nebraskland Days, The Connection (Homeless Shelter), Golden Spike Tower, Pathology Services, Nebraska State Patrol and Walmart Distribution Center, all in North Platte.
Andy Long, McCook Economic Development Corporation Director, met with the class in August for Leadership Day: a day of learning about themselves and about community. The day wrapped up with the class brainstorming on class project ideas.
The mission of the Southwest Nebraska Leadership Institute is to develop effective leaders from every section of our area who desire to strengthen and contribute to the high quality of life in Southwest Nebraska.