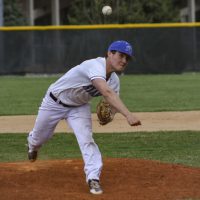 Former McCook Community College player, Jesse Bloom, a 5-11, 185-pound right-handed pitcher from Centennial, Colo., recently signed on to play at Farleigh Dickinson, a DI school in New Jersey.
Bloom led all Indian pitchers with 15 appearances. He started eight games and went 2-5 with one save and one complete game.
"Jesse was here for two years and worked hard during his time to get to where he is now," said MCC Baseball Coach Jon Olsen. "He played a big role and threw a lot of innings for us last year, and saw big jumps from his freshman to sophomore year."
Bloom pitched 54.1 innings on the season (third most on the team) and allowed 68 hits, 58 strikeouts, and 26 walks with a 6.46 ERA.
"It was fun to continue to watch him work and get better," Olsen said. "Jesse started off and finished real well, just had a little hiccup in his year in the middle of the season."
For the Indians, seven sophomores received offers to continue their baseball careers, five at Division I programs and two more at Division II programs.