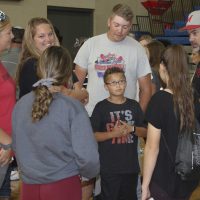 More than 100 McCook Community College students were paired up with members of the community Sunday as part of the MCC Indians Boosters, Adopt-A-Student Program kickoff picnic at the Peter and Dolores Graff Events Center.
Sophomores reconnected with last year's host families and freshmen were assigned host families for the year. Booster Club members believe this program helps non-local students at MCC feel more at home and connected to the community while they are attending college.
This year the Boosters helped find "families" for more than 100 MCC students. Each year for more than a decade, the Boosters coordinate the "Read-Aloud" program at area elementary schools. Each month students from MCC's athletic teams come into the classroom and read to students.
Host families are encouraged to invite students to their home a few times per month for dinner. This gives the students an opportunity to get out of the dorms, as well as lessen any home sickness that may occur. Families receive a free pass for two to attend MCC home sporting events and an opportunity to meet students around the world.