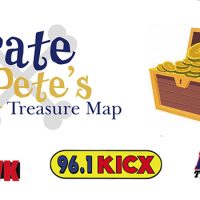 Beginning Friday, June 7th, listeners will have a chance to pick up a map at participating sponsors. Then begin listening on June 17th daily to 96.1 KICX and 103.9 The Hawk to find out where the treasure is NOT HIDDEN and begin tracking by process of elimination on your map!
If you discover the treasure, bring it to the High Plains Radio Studio at 1811 West O Street in McCook, NE between the hours of 8:00am and 5:00pm, Monday through Friday. Winner will receive $1,000 in Pirate Pete Bucks to spend at participating sponsors.
You must be 16 years of age or older to participate. No purchase necessary. Employees of High Plains Radio and their immediate families are not eligible to participate. Pirate Pete Bucks will Expire August 31, 2019.