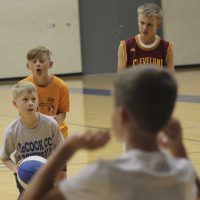 McCook Community College's summer camps for girls volleyball, boys and girls basketball and high school summer leagues and team camps for volleyball, and boys and girls basketball is set. This will be the eighth year of summer camps and leagues in the $10 million Peter and Dolores Graff Events Center featuring three full-size courts in an air-conditioned, state-of-the-art facility.
MCC Basketball Coach Brandon Pritchett will hold boys youth basketball camps May 29-31 for those in Kindergarten through ninth grade. Youth girls basketball camps are set for June 3-5 for girls in Kindergarten through ninth grade and Coach Hayley Kobza will conduct youth volleyball camps June 19-21.
"Our summer camps are great for kids to come out and test the waters to see if volleyball is the sport for them," Coach Kobza said. "We work on making it skill-based, but also throw in some other fun games in there as well."
Half-day camps for the younger campers are as low $30 and most full-day and multi-day camps are in the $50 range (check individual camp brochures for prices. These are available on-line at the McCook Community College Indian Athletics page in the camps and clinics section of the Fan Zone. The link is listed at the end of this article.)
The MCC coaching staffs and MCC players from these three sports will instruct and supervise all campers. Each day the campers will be given instruction in the fundamentals of the game. Campers will compete for awards on a day-to-day basis, playing numerous games. All players are grouped according to age and grade for competition and instruction. Each camper must provide their own: gym shorts, T-shirt, gym shoes, towel, and water bottle.
Team camps are set for June 8 for boys basketball, June 15 for girls basketball and July 1 and 2 for girls volleyball.
High school basketball summer leagues will begin June 3 for boys and June 4 for girls.
The girls high school volleyball league will start July 3 and continue through July 31.
"The MCC Summer League offers a great opportunity to get next year's team together and play against teams from around Colorado, Kansas, Nebraska and South Dakota," said Pritchett. Varsity and Junior Varsity teams are guaranteed two games each night. Cost is $275 per team. Teams entering more than one team receive a discounted rate of $225.00 per team.
For more information, about all the basketball camps, Brandon Pritchett pritchettp@mpcc.edu or call 308-345-8115. For volleyball camp information, contact Coach Hayley Kobza at (254) 433-1968 or email her at kobzah@mpcc.edu
Application and entry forms are available on the McCook Community College Indian Athletics page in the camps and clinics section of the Fan Zone at: https://mccindians.com/sports/2013/1/28/BB_0128131310.aspx?tab=campsclinics
MCC YOUTH CAMPS
May 29-May 31 — Boys youth basketball camps: (K-5th grade 9 a.m.-noon; 6-9th grade, 1-4 p.m.)
June 3-June 5 – Girls youth basketball camps: (K-5th grade 9 a.m.-noon; 6-9th grade, 1-4 p.m.)
June 19-21 — Girls volleyball youth camp (K-8)
June 19 – Girls (6th-8th grade, 9 a.m.-4 p.m.)
June 20 – Girls (6th-8th grade, 9 a.m.-noon); (Kindergarden-2nd grade, from 1-4 p.m.)
June 21 – Girls (3rd grade-5th grade, 9 a.m.-4 p.m.)
June 27 – Girls (high school, 9 a.m.-4 p.m., varsity/jr. varsity)
June 28 – Girls (high school, 9 a.m.-noon, varsity/jr. varsity)
MCC TEAM CAMPS
June 8 — Boys basketball team camp (8 a.m.-8 p.m., varsity/jr. varsity)
June 15 — Girls basketball team camp (8 a.m.-8 p.m., varsity/jr. varsity)
July 1- 2 – Girls volleyball team camp (9 a.m.-4 p.m., varsity/jr. varsity)
MCC SUMMER LEAGUES
June 3-24 — Boys Basketball League (4-10 p.m., varsity/jr. varsity)
June 4-25 – Girls Basketball League (4-10 p.m., varsity/jr. varsity)
July 3-31 – Girls Volleyball League (4-10 p.m., varsity/jr. varsity)