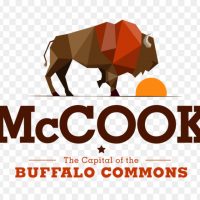 The Buffalo Commons Storytelling and Musical Festival is set to begin May 31 and this year's schedule will brings plenty of opportunities for free and ticketed entertainment options.
Headliners performing Friday night dinner cabaret at the Bieroc Café and the Saturday night "Who the West Has Fun" stage show include cowboy poets and storytellers Jake Riley and R.P. Smith and the Diamond W Wranglers Band. Cost for the Friday dinner show is $45 and reservations required. You can purchase these tickets at the Bieroc Cafe or call 308-345-6500. Tickets for the Saturday night grand finale at the Fox Theater are $15 for adults and $5 for students. It starts at 7:30 p.m. Tickets are available at: McCook National Bank, Sehnert's Bakery and Bieroc Cafe (308) 345-6500, McCook Chamber of Commerce (308) 345-3200 and at the door.
Kicking off this year's festival May 31 is McCook Community College's Histories Mysteries Bus Tour, called "Go West." It starts at 8:30 a.m. at the MCC Student Union and the tour will include stops at the Hitchcock County Museum in Trenton, and at the Massacre Canyon historical site. Limited tickets remain. Cost for this tour is $39 and includes lunch, the bus will return to McCook at 3 p.m. To register, call the college at 308-345-8122.
All of Saturday's morning and afternoon events June 1 as well as Sunday events are free and open to the public.
At 9 a.m. this year's Saturday schedule starts with free storytelling and concerts at the High Plains Museum featuring this year's headliners.
Also set for Saturday are stories, poetry and open microphone opportunities starting at 12:30 p.m. at the Bieroc Café.
Starting at 1:30 p.m. the McCook Public Library will host children's stories featuring Alan Bartels, author of a children's book "What's Going Down in Prairie Dog Town?" He is also assistant editor of "Nebraska Life" magazine.
From 3-4 p.m. you can "Meet Senator George W. and Ellie Norris" at a garden party hosted by Clark and Dawna Bates at the Nebraska State Historical Site.
At 5 p.m., Darrell Meister, who was part of the Buffalo Commons History's Mysteries tour last year, plans viewings of his bison herd near Hugh Butler Lake and will do a second viewing at 9:30 a.m., Sunday. Visitors will need a park permit. The Lighthouse Marina plans a "Bison breakfast special" Sunday morning.
On Sunday from 2-4 p.m. is the free Heritage Cemetery Tour of Memorial Park and Riverview Cemeteries sponsored by the McCook Chamber of Commerce, Southwest Genealogy Society and Southwest Nebraska Community Theater Group.
For more information about this year's performances and schedules please visit the Buffalo Commons Storytelling and Music Festival.