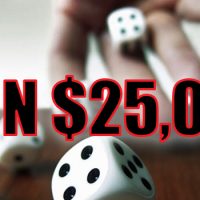 101.1 KFNF IS GIVING YOU THE CHANCE TO WIN SOME SERIOUS CASH!
IT'S THE HOW WE ROLL CONTEST! COME INTO ANY SPONSORED
LOCATION AND REGISTER FOR YOUR CHANCE TO BE AMONG
ONE HUNDRED AND ONE FINALISTS FOR THE OPPORTUNITY TO WIN BIG!
ROLL THE DICE AND SPELL OUT THE WORD "WINNER" AND YOU'LL BE
GOING HOME WITH TWENTY FIVE THOUSAND DOLLARS! AND DON'T
WORRY, IF YOU DON'T SPELL OUT "WINNER", YOU COULD STILL WIN A
SHOPPING SPREE AT RAY'S GROCERY.
TO GET REGISTERED, HEAD TO ONE OUR OF PARTICIPATING SPONSORS.
SPONSORS:
AKRS OF OBERLIN
DECATUR CO-OP
RAYES GROCERY
UNITED NW FED CREDIT UNION OF OBERLINE & NORTON
R&M SERVICE CENTER
STANLEY HARDWARE AND DESTINATION KITCHEN