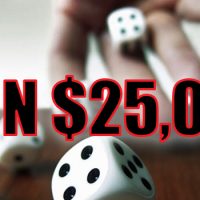 THIS IS HOW WE ROLL
101 lucky contestants will get the chance to roll the money dice to win $25,000 at the Decatur County Fair in Oberlin Thursday, August 8th. If you roll and it spells out W-I-N-N-E-R you win $25,000!
KFNF will also be giving away a 3-minute shopping spree at Raye's Grocery in Oberlin!
Register at the following businesses to get a chance to win $25,000!
R&M SERVICE CENTER in Oberlin
United Northwest Federal Credit Union in Oberlin and Norton
Stanley Hardware in Oberlin
Decatur Co-op
Currier Drug in Atwood
Plains Equipment in Oberlin
Raye's Grocery in Oberlin
Citizen's Medical Center in Colby
Oberlin Automotive in Oberlin
Engel Napa of Norton