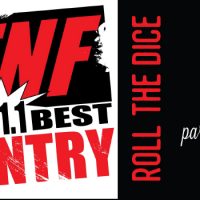 Here is a HUGE opportunity for your business!
101.1 KFNF gives listeners a chance to ROLL THE DICE!
Become a partner of this promotion and potential customers will come into your store to register to win a chance
to ROLL THE DICE this summer.
The listener has a chance of winning $25,000 plus other prizes the first week of August at the Decatur County Fair.
For more information about this opportunity please contact Bryan Loker at bryan@highplainsradio.net