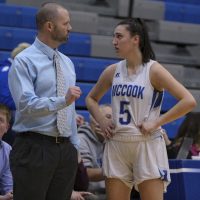 A man who spent nine years at McCook Community College as an assistant coach with the men's basketball team, will take over the head coaching post for the MCC women's basketball program.
Brandon Pritchett has been named MCC's Women's Basketball Coach. He had been serving the college as the interim coach since late February.
"We are extremely excited for Coach Pritchett to take over the women's basketball program here at McCook," said MCC Athletic Director Jon Olsen. "Brandon has done an excellent job in his nine years at the college in every role he has had, he is a great worker and someone that I can count on to get things done and is always there to help for the betterment of the college and our student athletes."
This season, the Lady Indians finished 21-11 and claimed a Nebraska Community College Athletic Conference championship with a perfect 6-0 mark. The team finished in third place in the South Sub-Region and hosted a first round Region tournament game for the first time since going to the current play-in game format. The season ended with a one-point loss to Eastern Wyoming in the second round of the Region IX Tournament.
Since arriving at MCC in August of 2010, Pritchett began his assistant coaching duties with the men's program under Brandon Lenhart which has included a wide range of responsibilities including recruiting and summer camp responsibilities.
Pritchett served two years as Resident Life Assistant, Intramural Director, and basketball camp instructor. In March of 2012, he was named Area Assistant Director of Advising where his duties have included advising for MCC's 450 on-campus, commuter and on line students as well as student recruitment for the 18 counties in the Mid-Plains Community College District.
In December of 2012 he launched the first McCook Community College Athletic website.
"Brandon has been a huge part of our athletic program during his time here, and now I am excited for him to take on his new role," Olsen said.
Prior to coming to MCC he spent six seasons at Flagstaff High School. He graduated Cum Laude at Northern Arizona University in 2005 and received his master's degree in Sports Science and Management at the United States Sports Academy in Daphne, Ala., in 2013.