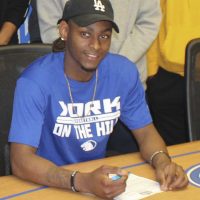 Avanthony "AV" Banks, McCook Community College sophomore basketball player, signed a national letter of intent Monday to continue his career at York College.
"Coach (Tree) Burkes is getting a great one in terms of talent and the kind of kid he is," said outgoing MCC Men's Basketball Coach Brandon Lenhart.
"York is a lot like McCook, and I've grown to really like what smaller cities can offer," Banks said. "After visiting there and meeting the coaching staff and players, it just seemed like the right fit for me."
The Panthers went 15-16 this past season. Banks will join former MCC teammate Kafani Williams in York. Coach Burkes is in his sixth year at York which competes in the NAIA.
Banks, a 5-10 guard from Portageville High School in Missouri, spent his first season at MCC unable to play because of ankle injury. This past season Banks played in all 31 games and averaged 8.0 points, and 2.0 rebounds. He made 62 of 153 shots from the 3-point line – the sixth most 3-pointers in Region IX. He also made 40.5 percent of his 3-point shots (seventh best in the region.)
He scored double-digit points 12 times in the past season with a season-high 21 points in the first game of the season.
Banks said his favorite on-court memory came on Jan. 29 when he made a key 3-pointer in the closing minutes in MCC's upset win over North Platte Community College. Banks scored 17 points in that game including making all four of his 3-point shots, all five of his field goals and three-of-four free throws.
One of his favorite campus memories is one of his first at MCC. In August of 2017 he arrived to participate in the Bridge To Success Program – a program that brings students to campus three weeks early to take a developmental English classes prior to enrolling in English Composition during the fall semester.
"That's when I got to know my teammates Ron (Rice) and Peanut (Cunningham), and got to know people on campus and what was expected of me," Banks said.
"Those were good times and I developed camaraderie," he said. It also exposed him to the advantages of a smaller town and a college with a family atmosphere. "I'm definitely going to miss that."
Banks is a psychology major and would like to go on to graduate school to become a relationship counselor.
"He will be successful on and off the court at York College," Lenhart said. "I love him and will miss him."