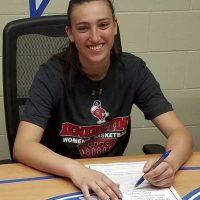 McCook Community College sophomore Anna Sanjuan has signed a letter of intent to continue her basketball career at Benedictine College in Kansas.
"I'm extremely excited for Anna," said recently named MCC Women's Basketball Coach Brandon Pritchett. "She has worked so hard to get to where she is at today. Benedictine is a great fit for her both academically and athletically, and that's what it's all about."
The 5-6 guard from Reus High School in Reus, Spain played in 31 games this season for the Lady Indians and averaged 11.0 points, 5.1 rebounds and 3.1 assists per game.
Her 342 points ranked 10th among all Region IX players. She shot 36.5 percent from the field and 32.9 percent from the 3-point line (also ranked 10th in the region) and 59.3 percent from the free-throw line, getting to the line 108 times on the season – sixth most in the region. Her 121 defensive rebounds were seventh most among the region leaders. Her 95 assists were third most and her 51 steals were fourth most in the region.
At the end of the season she was named to the Nebraska Community College all-conference team.
Benedictine College is a NAIA division I school in Atchinson, Kan. located on bluffs overlooking the Missouri River, northwest of Kansas City, Missouri. The Lady Ravens went 18-13 this past season under Coach Chad Folsom, in his 18th year as coach there. The team has gone to the NAIA Division I championship tournament five of the past seven years.
In addition to being impressed with the school and the coaching staff, Sanjuan said it was very noticeable how cohesive the team was, even in workouts.
"I visited there and was really impressed with the way the team worked together in practice and supported each other in drills."
She will graduate from MCC with a BS in Science and is looking at teaching physical education.
One of her lasting memories from MCC will always be the first time she stepped inside the Peter and Dolores Graff Events Center. "I was so big and my first thought was, 'this is America and this gym is American big.' It is so impressive," she said of the place where she spent hundreds of hours over the past two years.
She said she is extremely grateful to Coach Pritchett, who as the interim coach, helped give her confidence and helped find her a place to continue playing the sport she loves.
"Benedictine is getting the whole package," Pritchett said. "She is a great person, student, and talented basketball athlete. I'm excited to watch her grow over the next two years there."