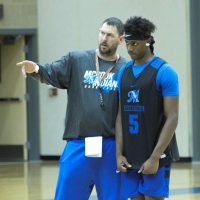 McCook Community College Men's Basketball Coach Brandon Lenhart has accepted a new coaching job at Minot State University in Minot, N.D.
"Coach Lenhart has been a tremendous asset to our program, the college, and the community," said MCC Vice President Kelly Rippen. "Every year he challenged himself in new ways to better serve our students and his athletes. He is a phenomenal coach with so much to offer and I am proud to see him offer those skills to a new program."
Athletic Director Jon Olsen who returned to MCC to coach baseball the same year as Lenhart — 2007 — said it's bittersweet news for the college.
"This is a tough one, I wish him all the luck," Olsen said. "I'm seen him grow as a coach over the years, and take on new responsibilities. I think this is a great opportunity for him, but it's tough to see him go."
"McCook and MCC will always hold a special place in our family's hearts, so many firsts took place here both professionally and as a family," Lenhart said. "We are excited for our new opportunity at Minot State University, and look forward to having the same reception we received in McCook 12 years ago.
Lenhart came to MCC in 2007 and since that time his teams compiled a 192-181 record. Also during that time there were nine players who earned academic All-American honors, 11 garnered all Region IX honors, and 29 players were named to all-Nebraska Community College Athletic Conference teams.
"I have been coaching college basketball for 18 years now, and this position at Minot State University will be the first position where I am able to concentrate on solely on basketball," Lenhart said. "This has been a goal and dream of mine for the past three years. God opened the door for this great opportunity for us and we are excited to work with the people of Minot, N.D."
In addition to his responsibilities with the men's basketball program, Lenhart was a Career Counselor with Mid-Plains Community College Career Services and served as Assistant Athletic Director for the past five years.
"Words alone can not express how appreciative I am of him for the amount of work he has put in on the basketball court, for career services side and all the tasks on the athletic side," Olsen said.
"He has always had very high expectations for his players, his staff, and himself," Rippen said. "The impact Brandon has made on the MCC tribe and the community of McCook is unmatched and commendable. He will be dearly missed."
"Although I hate to see him go, I wish him and his family the very best in their next adventure and hope he knows he will always be part of our MCC family no matter where he is," Rippen said.
"My family would like to thank the community of McCook and surrounding area for welcoming us with open arms since the time we all stepped foot in McCook in July of 2007.  I also want to thank all of the wonderful people at Mid-Plains CC I have had the pleasure of working with for the past 12 years, especially the staff in career services,  the athletic department, and all of the special people at MCC," Lenhart said. "We will always be family."