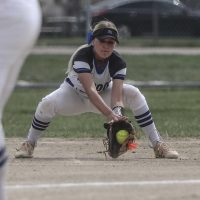 Today's softball games between McCook Community College and North Platte Community College have been postponed until Friday because of the weather. The doubleheader – part of the annual Purple Out games for epilepsy awareness – is set for noon and 2 p.m. Friday.
The postponement means the Lady Indians will play six games in three days starting with a pair of games Thursday at home against Southeast Community College at noon at 2 p.m. After Friday's home doubleheader with North Platte, MCC will travel to Scottsbluff to make up a pair of games rained out Easter Sunday against Western Nebraska. The Lady Indians have clinched a spot in the Region IX Division I tournament May 9-11.
On Saturday, North Platte will go to Columbus to begin the Region IX Division II tournament against Central Community College. That is a best-of-three series with the winner advancing to the Region IX championship series the following weekend at Beatrice against Southeast Community College.