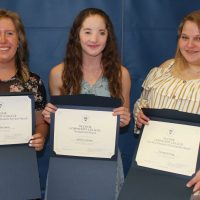 McCook Community College sophomore Ashley Carson, Ord, received the top student award at the college's annual honors convocation. Kayla Harrison, Richmond, British Columbia and Tatiana Young, Holdrege, were the other top winners.
Carson was named winner of the Presidential Award, which stresses outstanding academic, leadership and service qualities within the college and community. Harrison received the Vice President of Student Services award given to an outstanding student leader demonstrating commitment to co-curricular achievement. Young received the Vice President of Instruction Award to a student excelling in the classroom and demonstrating commitment to continued academic achievement.
Here are the some of the other awards that were announced:
DIVISION AWARDS
Business and Technology: Tyler Hayes, Kylia Johnson, Alyson Marin, Steven Keenportz
Humanities and Social Science: Brooklyn Evans, Mark Starks, Genna Vogel, Mary Kain
Math and Science: Zachary Thomson, Laura Mata, Nicholas Macfee, Makenna Bodette.
ALL COLLEGE AWARDS
MCC Professional Achievement in Student Success: Hayley Kobza
MCC Faculty Achievement in Student Success: Sheri-Hink Wagner
MCC Spirit Awards: Mykelsi Schnose, Lindi Johnson, Collyn Heinz, Brooklyn Evans, Haley Jacobsen, Amadou Dieye.
Watch for more information about these award-winners to be published Tuesday May 7 in conjunction with Commencement Week.