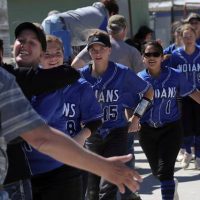 The McCook Community College softball team completed a series sweep over Northeast Junior College Sunday winning a doubleheader 9-1 and 12-8.
Not only does Sunday's wins bring the Lady Indians to the .500 mark on the season but the four Region IX wins elevate MCC in the standings as the Lady Indians shoot to become one of the top four teams in the standings that will qualify for the post-season tournament.
"It was a big weekend for us," MCC Coach Josh Barnes said. "We really came out and played like a team."
All five MCC pitchers contributed to the four-game sweep with Shae Muggridge, (Perth, Western Australia) picking up a shutout in the series opener Saturday and winning Game 2 Sunday. Starter Etta Van Burgsteden (Kinistino, Saskatchewan) started and won Game 2 Saturday and Sarah Willier, (Ponoka, Alberta) picked up the win in Game 1 Sunday. Angel Valdez, freshman, (West Jordan, Utah) came on to close out both Game 2s. Kayla Harrison, (Richmond, British Columbia) came on with the bases loaded and one out in the fifth inning of Game 1 Sunday and took five pitches to retire the only two batters she faced.
MCC got an early home run from Chanel Siebenthal (Lakewood, Colo.) in the first game and a late home run from Hannah Jensen (Aurora, Colo.) to break open the second game. MCC out-hit NJC 13-2 in Game 1 and 17-12 in Game 2.
"We were challenged in all aspects of the game but we overcame them. It was a fun day, Barnes said.
Northeastern Junior College falls to 20-18 overall and 3-13 in Region IX.
With the wins MCC improves to 18-18 on the season and 11-7 in Region IX.
On Tuesday the Lady Indians start a string of 10 games in six days starting with a road game Tuesday at Beatrice against Southeast Community College. On Wednesday MCC will host North Platte in the Purple-Out doubleheader starting at 4 p.m. On Saturday the Lady Indians host Western Nebraska for a pair of doubleheaders Saturday and Sunday. Games on Saturday start at 2 p.m. and with an 11 a.m. start Sunday.
For more photos from today's games, please visit the MCC Facebook page at: https://www.facebook.com/MPCCMcCook/
You can stay up to date with all MCC Indian Athletics including live-streaming games, news, photo galleries, schedules and more at MCC Indians Athletics web page at:
https://mccindians.com/index.aspx?tab=softball&path=softball
Game 1 – McCook CC 9, Northeast Junior College 1: Emily Charchuk (Victoria, British Columbia) singled on the first pitch to start off the bottom of the first and three pitches later Chanel Siebenthal line a home run to left field to put MCC up 2-0. After three straight two-out singles from Emma McLean (Willetton, Western Australia), Taylor Ford (McCook) and Abby Kalinski (McCook), a double steal and an error led to two more runs and the final run came home on a single off the bat of Sydney McArthur (Washington, Utah).
Sarah Willier kept the Plainswomen in check through four innings. An error, two walks and a fielder's choice loaded the bases in the fifth before Kayla Harrison came on in relief. Willier allowed two hits, no earned runs, five walks and she struck out four in her 4.1 innings of work. Harrison was unblemished in her two-thirds of an inning.
Charchuk, McLean, Ford, Kalinski and Isabel Serna (Roy, Utah) all had two hit games for MCC.