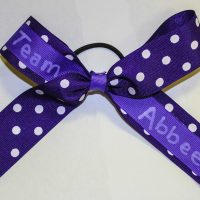 Hearing the story of how epilepsy has affected the life of 16-year old Abbee Terry of McCook and her family, inspired the newly formed Nebraska chapter of the Epilepsy Foundation to make a road-trip to McCook to witness the support and the attention the community and McCook Community College is generating.
Last month Rose Opbroek, Executive Director of Nebraska's new Epilepsy Foundation, Opbroek said a board member sent her a McCook Daily Gazette article chronicling how the Terry family is dealing with epilepsy, how it has changed the lives of each family member and made an impact on the college and the community.
Abbee, was diagnosed in 2014 with a rare and severe form of childhood-onset epilepsy called Lennox-Gastaut Syndrom (LGS). There is no cure for LGS. The family has tried all the management options: drugs, ketogenic diet, brain surgery and vagus nerve stimulation. Abbee takes about 25 pills a day, is on a strict diet with regard to carbohydrate consumption and sweets. She has 20 to 50 seizures each day.
As soon as Opbroek read the article, she contacted Shannon Corder, MCC's advisor of Phi Theta Kappa, asking if they could help with the event, attend it, and provide educational materials for the event. With the one postponement already (and the weather forecast for Wednesday could postpone the event again) Opbroek will not be able to attend the event but Todd Murphy — Board Chairman of the Nebraska Epilepsy Foundation — does plan to be in McCook for the event. Opbroek offered to help advertise and promote MCC's Purple-Out Day on their website and social media outlets.
MCC and Phi Theta Kappa are teaming up with the MCC and North Platte Community College softball teams, MNB Bank, and Bellevue University to host the purple out doubleheader at the Jaycees Sports Complex Thursday April 10 with games starting at 4 p.m. and 6 p.m.
"What a wonderful thing you all do," she told Corder.
MCC's annual event falls right in line with The Epilepsy Foundation's mission "To lead the fight to overcome the challenges of living with epilepsy and to accelerate therapies to stop seizures, fund cures, and save lives."
MCC's Purple-Out event has been rescheduled for April 30th at 4 p.m. Both teams will wear purple and chalk the ball park's sidewalk's to help draw attention and raise money for epilepsy awareness. There will be baked goods for sale, purple out gear, auction and raffle items and Abbee is scheduled to throw out the ceremonial first pitch.
Here are recent raffle winners: Diane Ruppert, "softball hot seat: Camie Cox, Husker football tickets; Marty Conroy, baseball tickets; Mark Kinne: signed Husker Heisman football.
All money raised will go to support the epilepsy foundation and epilepsy awareness.