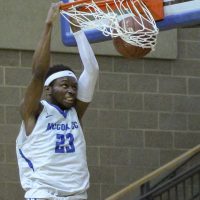 The McCook Community College men raced to a 19-0 lead and picked up a Nebraska Community College Athletic Conference win at home Sunday over Southeast Community College, 83-62.
After taking a commanding lead early, the game turned a little sloppy, as the Indian turnover total mounted. MCC held a 30-8 lead with 6:00 left in the half but the Storm went on a 16-4 run to cut the game to 34-24 with 1:18 remaining until intermission. MCC called a timeout and scored the final seven points of the period to make it a 41-24 game at halftime – despite turning the ball over 16 times in the first 20 minutes.
"That was way too many turnovers and we talked about that at the half and did a better job of that but 26 for the game is too many," MCC Coach Brandon Lenhart said. "I thought at times we did a good job on the defensive end," Lenhart said. "We held them to 26 percent from the field and 25 percent from the 3-point line." The Indians finished the game at 49.2 percent from the floor and made 35 percent (seven of 20) from the 3-point line.
MCC was a perfect 16-for-16 from the free throw line. "We made every free throw we shot, that doesn't happen often." Lenhart said. "Typically we like to take more free throws than our opponent." Southeast was 12 of 17 from the line. The Indians out-rebounded the Storm 51-35.
With two players still missing action because of sickness, the Indians lost freshman Miles Black early in the game with an injury and finished the game with seven healthy players. "Normally, we've been 10 to 11 players deep, but we ended up getting a nice balance of scoring in this game," Lenhart said.
Freshman Tyrek Battle-Holley (Jersey City, N.J.) led MCC with 22 points and also snagged 12 rebounds. Freshman Mardrez McBride (Augusta, Ga.) scored 19 points and had seven rebounds. Sophomore Peanut Cunningham (Louisville, Kent.) scored 17 points to go along with a game-high 13 rebounds and redshirt freshman AV Banks (Portageville, Mo.) scored 12 points.
The Storm, fall to 9-15 on the year, and 1-3 in Nebraska Community College Athletic Conference play.
MCC improves to 10-14 and 3-0 NCCAC play and can win the conference championship but winning its three remaining conference games. The Indians continue play in the NCCAC Monday at home against Central Community College (7:30 p.m.). Remaining conference games are on the road Feb. 20 at North Platte (7:30 p.m.) and the final game of the season at Beatrice against Southeast Community College Feb. 25 (6 p.m.).
The Indians dive back in to Region IX South play at home Friday against Trinidad State (7:30 p.m.); and Saturday against Otero Junior College (4 p.m.)