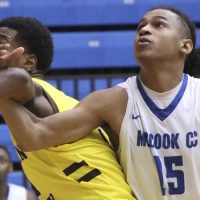 For the second night in a row the McCook Community College men's basketball team gave up 100 points in the Gillette State Farm Classic as the host Pronghorns downed the Indians 110-80 Saturday night.
The Pronghorns seized the lead early and never trailed on the way to the 20-point win.
Six Gillette players scored in double-figures led by Bradley Akhile's 25 and Mason Archambault's 21 points.
The Pronghorns shot 57.6 percent from the field, 48 percent from the 3-point line (12 of 25), and 75 percent from the free-throw line (25 of 30). Gillette out-rebounded MCC 40-33
Freshman Miles Black (Jonesboro, Ga.) led MCC with 25 points. Sophomore Peanut Cunningham (Louisville, Kent.) scored 13 points to go along with a game-high 10 rebounds.
A trip of Indians scored 10 points each including: Sophomore Jacob Boden (Stockholm, Sweden), freshman Tyrek Battle-Holley (Jersey City, N.J.) and freshman Mardrez McBride (Augusta, Ga.).
MCC shot 43.8 percent from the field but just two of 17 shots from distance (11.8 percent), and 14 of 19 free-throw shots (73.7 percent). The Indians turned the ball over 19 times – two fewer than Gillette but the Pronghorns converted MCC turnovers into 35 points. MCC scored 16 points off Gillette College turnovers.
MCC falls to 5-6 heading into the final two games of the calendar year.
The Indians host Eastern Wyoming Friday at 7:30 p.m. and Laramie County Community College Saturday at 4 p.m. Both games are in the Peter and Dolores Graff Events Center. MCC beat Eastern Wyoming 86-75 Nov. 9 at Torrington and lost 80-74 to LCCC in Cheyenne Nov. 10.