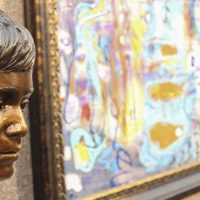 The combined works of Cambridge sculptor Sondra Jonson and son Joseph McHale will continue on display at the Wrightstone Fine Arts Gallery on The McCook Community College campus.
Their collaborative exhibition "Across The Generations — Two Artists In One Family" will continue on the McCook Community College campus through Dec. 14.
Jonson, whose studios are in Cambridge, has established her reputation as a master of human figure and portraiture. Her sculptures always display skillful craftsmanship while looking deeply into the human story. She has competed and placed in national and international competitions, including the Oklahoma City Memorial Competition, and has sold Bronzes to collectors across the United States and in Europe.
She's known for the 80 large sculpture works throughout the United States and Canada. Her works have been featured in more than 25 juried exhibitions. She recently added original mosaic design, some of which are featured in the Wrightstone Exhibit.
The Wrightstone Gallery is open from 8 a.m.-9 p.m. Monday and Tuesdays and from 8 a.m.-5:30 p.m. Wednesday through Friday.