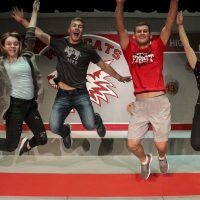 It's has taken many years to revise this local on-stage "partnership" but On Nov. 10th McCook Community College and McCook High School's theater and music departments are collaborating – about 65 strong — to present "High School Musical." Performances are set for Nov. 10 at 2 p.m. and 7 p.m., Nov. 11 at 2 p.m. and Nov. 12 at 7 p.m.
McCook High School Speech and Drama Teacher Amanda Davidson said with the cast, musicians and technical crew about 45 MHS students are a part of "High School Musical." MHS Band Instructor Nathan Hudson was tasked with assembling a pit orchestra, a rhythm section to compliment the lead piano part.  At MCC, Theater Instructor Clay Grizzle has recruited 20 students with five playing on-stage roles, and 15 others involved. MCC Music Instructor Dr. Mirna Cabrera has assisted with the music and MCC Art Instructor Rick Johnson and his students were involved with the set painting, moving and other tasks. "This has been a new experience for a majority of not only students — but for Nathan and I as well," Davidson said. "We have a lot of people from the music side of it who have never done theater, and theater students who've never done music, and hardly anybody has danced for a production." "It's been a lot of fun and it has generated a lot of excitement in our hallways," Hudson said. "It's great to have something like this to bring so many different elements of our school and so many groups."
"It's been great working with the high school instructors and students," Grizzle said. "I think we're all excited that we decided to do this and when you see the energy on stage I think you'll be able to see how hard these actors and musicians have worked."  "High School Musical" is about a popular high school athlete and an academically gifted girl who get roles in the school musical and develop a friendship that threatens East High's social order. Some of the songs include "Stick to the Status Quo," "Bop to the Top, "We're All in This Together," "What I've Been Looking For." Casting was done back in August with two or three rehearsals per week.  MCC freshman Beth Hoyt, a music major who was cast in the lead role of "Gabriella Montez" the brainiac. She plays opposite MHS Senior Paxton Terry as "Troy Bolton" the lead jock.  The time commitment for both actors/musicians have been intense at times. Hoyt is taking 16 credit hours this Fall while playing piano at her church and working part-time. Terry is a senior fullback/linebacker on the Bison football team and says his typical school day used to be done at 6:30 p.m. but this Fall, stepped out of his comfort zone and gets home for a quick shower after football practice and then it's on to musical practices until 9 p.m. (it keeps getting later the closer they are to opening night). Then he can start diving into homework. It's a schedule repeated many times over for most of the cast and crew.
"You can imagine that when you get students from all areas of academics, athletics and clubs, there are always going to be scheduling issues, but when you see the results on stage it just demonstrates how hard everybody has worked to make this happen," Grizzle said.  For many of the students the three words "High School Musical," is the only motivation they need. "'High School Musical'" was one of my favorite Disney movies growing up and for most of my friends" said MCC sophomore Lindi Johnson, who is also choreographing many of the songs. "You had Troy the heartthrob and Gabby the one we all wanted to be — it's like Troy and Gabby were all part of our own childhood." Johnson was cast in the role of Sharpay Evans who along with her twin brother Ryan (played by MHS Senior Gabe Sehnert) try and lead a student uprising from within their thespian group, to undermine thespian roles for jocks or brainiacs.
MHS Senior Kassidy Michaelis has known all the words to all the songs from "High School Musical" for a long time. Even though she was fully committed to her senior season on the volleyball court when she heard about auditions she thought, "This is my chance." She was cast as Taylor McKessie one of the brianiacs and Gabriella's friend. Yet she's felt something larger than just playing a part in this musical. "It's been incredible that we have students representing almost every sports team and every club or organization and add to that he college students. We come together three nights a week and we are all taking pride in this, it's something pretty rare and special."  While most young men were not as "High School Musical-crazy" as the girls, Gabe Sehnert admits he became familiar with this musical at a young age, but not by choice. "My older sisters forced me to watch it with them," he insists. Like his football teammate Terry, Gabe spent most of his autumns playing football but knew this would be a chance to join another great team. "With Mrs. Davidson and Mr. Grizzle joining forces to take on this commitment is just an awesome opportunity to bring the community together, I've loved being a part of it," Gabe said.