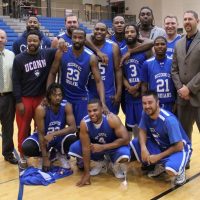 The McCook Community College Indians downed the MCC All-Stars Saturday 123-68 in the final game of the MCC Tip-Off Classic. "We did a better job tonight cleaning up the hand fouls, we did a nice job rebounding and we took care of the ball," MCC Coach Brandon Lenhart said.  Six Indians reached double-digits. Sophomore Jacob Boden (Stockholm, Sweden) led all scorers with 23 points. Freshman Avanthony (AV) Banks (Portageville, Mo.) poured in 21.
Freshman Mardrez McBride (Augusta, Ga.) had 17 points, freshman Tyrek Battle-Holley (Jersey City, N.J.) scored 14. Sophomore Peanut Cunningham (Louisville, Kent.) had 13 and freshman Kailee White Jr. (Henrietta, N.Y.) chipped in 10 points and six rebounds. Freshman Anani Ikechukwu (Abuja, Nigeria) scored nine points and tied White Jr. for the team lead in rebounds with six. "The former Indians definitely shot better than Louisiana Christian Prep did Friday night," MCC Coach Brandon Lenhart said. "Defensively we had some missed assignments, our guarding techniques broke down a little rotating and with help-side defense." For the MCC All-Stars Antonio Dye, (Indianapolis, Ind.) led the way with 20 points. George Pollard (Colorado Springs) scored 15 points – all from the 3-point line where he made five of eight shots. Keenan Gaskin (Houston, Texas) and Tony Dobbinson (Denver) both scored 11 points. Gaskin led the team with five rebounds. The Indians shot 60.8 percent from the floor, 47.7 percent from the 3-point line (14 of 30) and 59.1 percent from the foul line (13 of 22). The All-Stars shot 38.8 percent from the floor, 31.3 percent from the 3-point line and 66.7 percent from the free-throw line (six of 9.) The Indians won the rebound battle 48-30.
MCC has three games this week – all on the road starting with a trip Tuesday to Colorado Springs to take on Air Force Prep. On Friday and Saturday the Indians travel to Wyoming taking on Eastern Wyoming in Torrington and to Cheyenne to take on Laramie County Community College. The latter two schools have switched sub regions in Region IX and while they won't count in the south sub-region Lenhart believes these three games will be big week for the team as health issues prevented some guys from playing Saturday. The William Penn JV beat Louisiana Christian Prep 123-59 in the other men's contest.