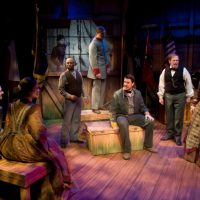 For some it is a wish come true and for many it will be a new experience.  "Civil War Voices" is an original musical by McCook's own Jim Harris and music arranged by composer Mark Hayes.  The show was first presented in McCook in 2009 to help the Fox Theatre kick off a huge renovation project.  The play was presented in one sold out performance that year.  The fund raiser was a huge success because the Harris family sponsored the production and donated the proceeds to the renovation fund raising drive.
Civil War Voices tells the compelling and passionate true stories of real people who lived through the conflict, using the actual words the characters left behind in diaries, letters, and other writings. The show has since been premiered in theaters around the country and is now published for production.  Reviewers describe it as "Truly moving"—Orlando Sentinel, "Splendidly entertaining"—Backstage, "Spectacular music"—Examiner.com, and "Powerfully written"—Times Square Chronicles.
"Civil War Voices a Theatrical Concert" will be presented live on the Fox stage Wednesday evening November 7, 2018 at 7:00 PM in the Fox Theatre 412 Norris Ave. in McCook.  This is a concert version with a cast of 5.  Jim Harris says that this is close to his original concept of the show.  The production will be presented free of charge courtesy of the James P. and Laurine Kimmel Foundation and the Lied Center's Arts Across Nebraska program.