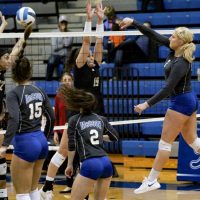 The McCook Community College volleyball team ended the regular season on a sour note Tuesday losing in straight sets at home to 20th-ranked Northeastern Junior College, 17-25, 22-25, 19-25.
"It's like we took ten steps back," MCC Coach Hayley Kobza said.
Tuesday's game was the final home game for seven sophomores including: setter Ashley Carson (Ord); middle blocker Hannah Emerson (Greeley, Colo.); libero Brooklyn Evans (Ogden, Utah); middle blocker Hayley Jacobsen (Littleton Colo.); outside hitter Ty Johnson (Conroe, Texas); outside hitter Ryan Maddera (Evans, Colo.); and libero Onyessah Rocha (Topeka, Kan.)
Faith Simpson (Wauneta-Palisade) led MCC with 12 kills, Ty Johnson had eight.
"Faith and Ty did what they were supposed to do but our other four hitters made some silly mistakes and our passing could have been better too," Kobza said.
The loss will push the Lady Indians into a win-or-go-home in the first round of the Region IX tournament in Cheyenne, Wyo. Oct. 31 at 10 a.m. against the six-seeded team in the Region IX North Division. That division's games won't be concluded until Friday and the standings are closely bunched so MCC's first-round opponent won't be determined until all teams finish the schedule.
"We have seven days to change things and we're are going to get right back at it bright and early tomorrow and hit it hard like preseason and mentally make the changes we need to get better," Kobza said.
NJC improves to 21-6, 7-2 on the road, and 7-3 in the South Division play.
The Lady Indians finish the regular season at 19-12, 8-2 at home and 3-7 in South Division play.
If the Lady Indians win the in the first round of the Region IX tournament they would make it into double-elimination play and take on Western Nebraska in the second game.
Complete pairings will be announced later this week.
Here are the Final Region IX South Standings
W-L                 Overall
Western Nebraska CC        9-1                  23- 7
Northeastern JC                   7-3                  21- 6
Otero Junior College           6-4                  23- 5
Lamar CC                              4-6                  18-13
McCook CC                          3-7                  19-12
Trinidad Junior College      1-9                  10-18