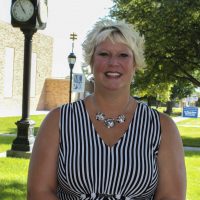 A public "meet and greet" for McCook Community College's next top leader is set for Monday from 5:30-6:30 p.m. Kelly Rippen, who has served as Mid-Plains Community College's Area Dean of Enrollment Management since 2011, was recently named Vice President of McCook Community College and Area Vice President of Student Affairs. The meet and greet event will be at Sehnert's Bakery & Bieroc Café, 312 Norris Ave. Rippen takes over the position previously held by Andy Long, who resigned in May to take over the executive director's position at McCook Economic Development Corp. "Kelly has poured her heart and soul into her positions for the past 18 years and I know she'll do a great job in this new position," said Mid-Plains Community College President Ryan Purdy.  She received her bachelor's degree in Behavioral Science in 2000 from Concordia University and her Master's in Counseling and School Psychology from the University of Nebraska-Kearney in 2011.  Rippen was one of Mid-Plains Community College's first "area" employees serving as Area Admissions Coordinator/Recruiter from 2001-2006. At one point her "territory" included 186 schools. She became Area Director of Recruiting and Admissions in 2006 and served in that position until she became Area Dean of Enrollment Management in 2011. She's also spent time in the classroom teaching a College Success course since 2011. "I am so proud of how far the college has come in being a first-choice school," Rippen said. "That's one of the main reasons I wanted this job. I love this institution and am proud to be part of the direction of an innovative, passionate team." Rippen said she sees her role as providing leadership for MCC and the student services team as well as to collaborate with faculty, staff, college cabinet, students, and community members while continuing to develop MCC's reputation for excellence in higher education. "Our college has a strong presence in the area, we care about the community and our students," Rippen said. She intends to continue fostering those relationships and partnerships with surrounding communities, businesses, and high schools. Recruiting and retention will remain a high priority Rippen said as college staff continually analyzes and assesses new and old initiatives. She wants to also empower the MCC team to develop new ideas, grow professionally, and remain engaged in student support. "We have a dedicated faculty and our presence and our relationship with students is a huge priority. I love the significant role we play in high schools in the area and that we have tremendous scholarship opportunities."Some of MCC's accomplishments she's been a part of that she is most proud of include:
A 17 percent student retention rate increase over the past five years
A 10.3 percent increase in the number of area high school graduates attending MCC
Record numbers attending Registration Day
Increased collaboration with faculty on key dates for new students including student visits, registration, orientation and outreach
Kelly and husband Shane are farmer/ranchers in Culbertson, with daughters Joy 13, and Kori 12. Rippen said they love camping, white-water rafting, roller coasters, traveling, and all sports: volleyball, basketball, softball, football, baseball, and golf. Through the course of her career, Rippen has had the opportunity to develop her public speaking skills for a wide range of topics, and organizations, but is looking forward to expanding those opportunities locally to talk about MCC.
"Kelly has done a nice job of serving in the role on an interim basis and now she'll be able to set her own course in the position," Purdy said. If you haven't already met and congratulated Kelly we'd love to have you come out to the meet and greet Sept. 24 and welcome her to her new role."