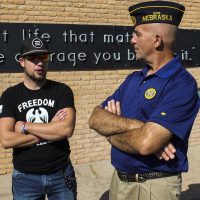 "You are not forgotten was the theme when McCook Community College and the student Veteran's group "Stars and Stripes" hosted Veterans and their families at a POW-MIA Day ceremony Friday on campus.
Gathering at the flagpole at the Michal S. Confer Memorial where a POW/MIA flag was flown below the American flag, MCC student and National Guard Captain Riley Sadd welcomed Veterans and led the salute and Pledge of Allegiance.
Brian Obert Mid-Plains Community College Area Dean of Student Life and sponsor of our Student Veterans Organization recognized  veterans representing American service men and women from World War II, Korea, Vietnam, Cold War and the conflicts around the world since 1991.
"We proudly display this flag to honor those American Service men and women who left our shores to serve our country, but have not returned home, yet. On this flag it is written, "You are not forgotten," Obert said.
Following the ceremony, MCC students escorted Veterans, Auxiliary members and family to Brooks Hall.
"These students here have asked to be hosts for Veterans during lunch today," Obert told the group.
Students accompanied nearly 20 Veterans and their families to Brooks Hall for lunch and discussion.