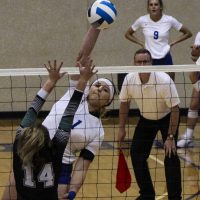 SCOTTSBLUFF – After starting a five-game stay in Cougar Palace with a disappointing loss to Western Nebraska on Thursday, the McCook Community College Lady Indian volleyball team responded with a perfect 4-0 mark in the Wyo-Braska shootout. MCC downed Dawson Community College and Eastern Wyoming on Friday then bested Laramie County Community College and Caspar College on Saturday.
MCC returns home Tuesday to take on Southeast Community College at 7 p.m. in the Peter and Dolores Graff Events Center. MCC is inviting Red Willow County employees and their families to be special guests. All Red Willow County employees and their families will be allowed free admission to the game.
This weekend the Lady Indians begin a stretch of six straight road games with a three-day swing through southern Colorado starting Thursday in Trinidad to take on Trinidad State, Friday in La Junta to face Otero and Saturday in Lamar to take on Lamar CC.
MCC improves to 13-5 on the year.
MCC 3, Dawson Community College 0: MCC opened up the tournament Friday with straight set wins over the Buccaneers 25-21, 25-18, 25-15.
Sophomore Ryan Maddera (Evans, Colo.) led MCC with 10 kills. Freshman Faith Simpson (Wauneta) had nine and Sophomore Hannah Emerson (Greeley, Colo.) added eight kills and four blocks. Ashley Carson (Ord) had 32 sets and nine digs. Kiera Barr (Granby, Colo.) had nine digs and Brooklyn Evans (Ogden, Utah) had eight digs.
MCC 3, Eastern Wyoming 1: The Lady Indians prevailed 25-19, 25-17, 12-25, 25-21. Simpson led the Lady Indian attack with 14 kills, Maddera had 13, Emmerson seven and Haley Jacobsen (Littleton, Colo.) had six. Evans led MCC with 14 digs.
MCC 3, Laramie County Community College 0: MCC won 25-21, 25-21, 25-20 to open Saturday play. Simpson had 13 kills, Maddera 12 kills and 12 digs, Emerson eight kills, Ty Johnson (Conroe, Texas) had six. Carson had 36 sets. Onyessah Rocha (Topeka, Kan.)  had seven digs. MCC had eight serving aces.
MCC 3, Caspar College 1: MCC won 25-14, 25-22, 22-25, 15-19. Simpson had 21 kills and four service aces. Emerson 12 kills, Maddera eight. Barr led MCC with 11 digs, Evans had nine and Rocha seven. Carson had 46 sets.