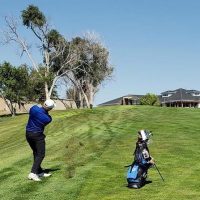 The McCook Community College golf team finished up play at the Northeastern Junior College tournament Friday in second place. Eastern Wyoming finished first for the third time in three tournaments and with 10 more points awarded, hold a 30-19 lead over MCC in the season-long standings. Central Wyoming is third with 14 points.
"It was a beautiful day for golf that resulted in some very good scores," MCC Coach Tyler Loop said.
"We lost a few strokes on our last few holes today but overall another solid round and I'm really proud of the way our team played including our individuals."
Sophomore Cameron Lampe (Windsor, Colo.) followed his four-under par 67 Thursday with a 70 Friday to finish one stroke back of Eastern Wyoming's Gonzalo Arcelay for the low score of the tournament.
Sophomore Ronnie Quick (London, England) finished seventh with rounds of 71 and 74.
Freshman Chesney Tatman (North Platte) shot rounds of 76 and 77. Freshman KC Carlson (Delta, Colo.) improved by six strokes Friday and shot rounds of 8-, 74. Sophomore Graham Gaspard (Breckenridge, Colo.) shot and 86 Thursday and improved by three strokes Friday.
Three MCC golfers played the course as individuals. Gabe Vielma (McCook) shot a 76 and followed with a 72 Friday to tie for ninth place. Trevor Oberg (McCook) shot rounds of 76 both days to tie for 12th place. Sophomore Brady Wonderly (Benkelman) shot an 89 Thursday but improved by three shots Friday.
MCC will now host the Region IX field at Heritage Hills Golf Course Thursday and Friday.
TEAM SCORES
Eastern Wyoming              285-283 — 568
McCook CC                      294-293 — 587
Northeastern JC      310-302 – 612
Otero JC                           315-307 — 622
Central Wyoming     310-315 — 625
Lamar CC                         Insufficient scores
MCC SCORES
Cameron Lampe     67- 70 — 137
Ronnie Quick          71-74 — 145
Chesney Tatman     76-77 — 153
KC Carlson             80-74 — 154
Graham Gaspard    86-75 — 161
Gabe Vielma           76-72 — 148 *
Trevor Oberg                    76-76 — 152 *
Brady Wonderly      89-86 — 176 *
*- played as an individuals