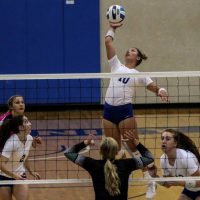 The McCook Community College volleyball team knocked off 20th ranked Central Community College in straight sets Tuesday to stretch the current winning streak to six games. Tuesday's win came 25-16, 25-20, 25-18 and completes a two-game, straight-set sweep over Central. The Lady Indian's win over the Raiders Sept. 5 in Columbus was the first time in 24 years MCC had beat Central. Opposing coaches keep telling me we have something special here with these girls… I believe that any time we step on the court we can win, now we just have to get the girls to believe that," MCC Coach Hayley Kobza said after the game. Sophomore Ryan Maddera (Evans, Colo.) led MCC with 15 kills on the night. Sophomore Ty Johnson (Conroe, Texas) had six. Freshman Faith Simpson (Wauneta) had three aces while freshman Mallory Brown (Colorado Springs) had two. After squandering a two-set lead against North Platte last week, and coming back to win 3-2, Kobza said the team worked on pressure drills since that game. "Over all tonight I thought we did better, not great, but better, our service game was good but we're not as consistent as I'd like us to be," Kobza said. "We tend to play too much in bursts." She credits much of the energy and enthusiasm on the court to sophomores Brooklyn Evans (Ogden Utah) and Ty Johnson and freshman Kiera Barr (Granby, Colo.). Central ranked 20th last week in the NJCCA Division II national poll falls to 8-8. MCC leads the Nebraska Community College Athletic Conference with a 4-0 record and an 8-4 mark overall. Of MCC's four losses this season two came from teams ranked second and third in the DII poll – Cowley College (8-1) and Johnson County (11-1) –downed MCC earlier this month in Arkansas City, Kan, to hand MCC two of its four losses. One loss came to No. 11 Hawkeye Community College (11-1) and the other to (13-0) Colby Community College which ranks just outside the top 20 ranked teams in Division 1. The Indians will have a tough test ahead of them traveling to Scottsbluff later this week for a three-day, five-game stay. On Thursday the Lady Indians face off with 10-6 Western Nebraska for the first region game. Despite the record the Cougars are ranked 11th in the NJCAA D1 standings. On Friday MCC plays 3-10 Dawson Community College at 1 p.m. (MT) in the opening game of the Wyo-Braska Shootout. At 5 p.m. (MT) the Lady Indians play 2-12 Eastern Wyoming, a team MCC downed in straight sets at Torrington Aug. 28. The tournament continues Saturday as MCC plays Region IX north leaders, 10-6 Laramie County Community College in a noon (MT) game and follow that with a 2 p.m. (MT) game with 6-9 Caspar College. MCC's next home game is Tuesday Sept. 25 against Southeast Community College at 7 p.m. in the Peter and Dolores Graff Events Center.
MCC Statistical Leaders: MCC Sophomore Ryan Maddera tops the Region IX-south statistical leaders in a couple categories including 3.87 kills per set and in service aces per set (0.56). Her kills per set also ranked seventh in the country
Sophomore Ashley Carson is second in the region among setters with 9.43 per set – a mark which is 16th best among all setters in the nation.
Freshman Faith Simpson ranks fifth in Region IX in kills per set (3.57) and is second in hitting percentage (.317.)
Sophomore Ty Jonson ranks fifth in hitting percentage (.298). Sophomore Hannah Emerson is third in blocks per set (0.88) and sophomore Hayley Jacobsen is fifth in blocks per set (0.74).
FOR MORE PHOTOS from MCC's home volleyball games check out individual game photo galleries in the Fan Zone on the McCook Community College Indian Athletics web page:
http://mccindians.com/galleries/?tab=photogallery
You can follow all MCC home games "live action" or "archived games" via live streaming this season "Tribe Watch" available in the Fan Zone section of the McCook Community College Indian Athletics web page:
http://mccindians.com/sports/2016/11/10/tw.aspx?tab=tribewatch