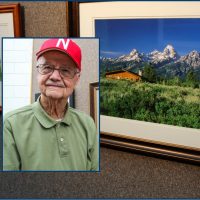 Fall classes began Sunday at McCook Community College with enrollment numbers strong as well as a full slate of college-related events and activities set for this Fall.
The Jack Stevens Photography Retrospective — a 75 year-later compilation – is on display at the Wrightstone Fine Arts Gallery on the McCook Community College campus. After a limited summer showing, this exhibit will continue through Sept. 14.
Stevens took up photography when he was 13 and developed this self-taught skill into a passion he continues today. He was inspired by some of the places he saw while traveling with the Air Force. He continued documenting family vacations and eventually transformed his photography into other areas of his life.
This limited exhibition includes photographs from London, Italy, Germany, Tahiti – and Barnett Park. He combines his love of photography with other subjects like sailing, and fishing, and small-town life.
THIS FALL AT THE WRIGHTSTONE: Following the Jack Stevens Photography retrospective on display through Sept. 14, MCC Art Instructor Rick Johnson will bring "Images Unleashed" a collection of works on loan from the Museum of Nebraska Art (MONA). This exhibition is set for Sept. 17-Oct. 19. From Oct. 22 through Dec. 10, MCC will host "Across The Generations" featuring two artists and one family, nationally-renown Sondra Jonson and Joseph Jonson.
The Wrightstone Gallery is open from 8 a.m.-9 p.m. Monday and Tuesdays and from 8 a.m.-5:30 p.m. Wednesday through Friday.
MCC Theater: The McCook Community College Theater and Music Departments are teaming up with McCook High School and area home-schoolers to stage "High School Musical." Performances are set for Nov. 8, 10, and 11. In addition to MCC's theater and music departments, MHS's theater and vocal and instrumental music departments will be a part of this combined production.
Also this semester the department will present the play "Sylvia" by A.R. Guerney, with plans to tour the play at area high schools Auditions will take place soon.
MCC MUSIC: This semester's concert "Winterfest" is set for Dec. 1 at 7 p.m. at Memorial United Methodist Church.
NEW FACES AT MCC: Micah Marvin joins the McCook Community College faculty this Fall as math and science instructor taking over for Lynn Salyer who retired in the Spring. Brady Heinz was named new full-time Assistant Housing Director/Student Engagement in McCook. Also Marlene Goodenberger joined the Business and Community Education staff as administrative assistant in the McCook BCE office.
KEY DATES: The annual Organization, Business and Employment Fair is set for Aug. 30 from 10 a.m. – 1 p.m. in the main campus courtyard. This event helps introduce students to business and employment opportunities in the area as well as recruiting students for MCC's organizations.
MCC ACADEMIC CALENDAR:
Sept. 3 – Labor Day, no classes
Oct. 5 – Faculty Enrichment Day, no classes
Oct. 14 – First eight-week classes end
Oct. 15 – Second eight-week classes begin
Nov. 21 – Faculty Work Day, no classes
Nov. 22-25 – Thanksgiving break, no classes
Dec. 9 – Final exams week
Dec. 14 – Faculty work day
Jan. 2 – Campus re-opens
Jan. 13 – Spring classes begin
March 18-23 – Spring Break, no classes
May 5-9 – Final exams week
May 10 – Commencement