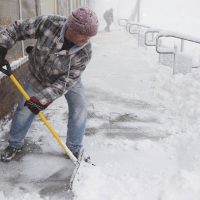 A springtime blizzard hit Nebraska with a powerful punch Friday evening into Saturday, shutting down highways, stranding motorists, and
paralyzing much of the state. The April storm weakened as it entered eastern Nebraska, bringing only light snow to Omaha and Lincoln.
Highways are slowly returning to normal after Nebraska Departmentof Transportation snow plows returned to work once the storm eased
and they could work the roads. Reports of as much as a dozen inches of snow fell in some parts of Nebraska with the heaviest seemingly
falling in north-central Nebraska. Fierce winds piled up wind drifts from the western portion of the state to mid-Nebraska and up in north-
eastern Nebraska. The Nebraska State Patrol reports one fatality during the blizzard. 61-year-old Rollo Ward of Idaho Falls, Idaho lost
control of his semi tractor-trailer on I-80 near mile marker 84 whiledriving east Friday. The truck slid into the median and struck a
stranded semi. Ward was pronounced dead at the scene. State troopers along with the Cheyenne County Sheriff's Office, Sidney Police De-
partment, Sidney Public Schools, Cheyenne County Emergency Management, the Nebraska Department of Transportation, and others,
worked Friday to clear all of the stranded vehicles. In total, more than 100 motorists were rescued. NSP says two areas near Sidney caused
major problems. One section on I-80 stretched for more than a mile anda half. Sidney Public Schools offered buses to assist in the rescue, which
were escorted to the scene by patrol vehicles and snow plows. Law enforcement officers went car to car, knocking on the windows of all of the vehicles, rescuing the occupants from freezing temperatures. Officers took those rescued to Light Memorial Presbyterian Church in Sidney or to a hotel.