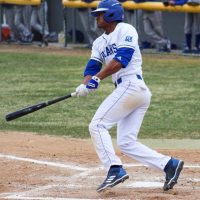 The top team in the Empire League Standings – Trinidad State – swept a pair of games from McCook Community College Thursday winning 4-0 in the opener and taking the second game 7-2.
The Indians were shut out for seven innings in the first game by Trojan starter Niko Guzman in the 4-0 loss and shut out the first six innings of the second game by starter Eli Sievert before scratching across a couple runs in the seventh in a 7-2 loss.
MCC was held to 11 hits on the afternoon – five came from designated hitter Michael Sookdeo (Brampton, Ontario).
Trinidad improves to 27-7 on the season and 12-2 in league play. MCC is now 10-19 on the year. The team was were tied for second in the standings with Otero Junior College (5-5) coming into Thursday but the double loss drops the Indians to 5-7 in Empire League play and knocks them down to fifth place in the seven-team league. The top four teams in the standings advance to post-season play.
The two teams will wrap up the three-game series Friday in a nine-inning game at 11 a.m.