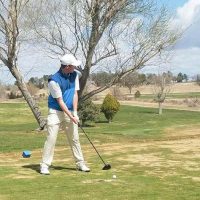 The McCook Community College golf team was one stroke better Friday than on Thursday, but it wasn't enough to overtake Eastern Wyoming in the final round of the Lamar Community College tournament.
MCC followed up Thursday's team score of 305 to post a 304 on Friday. Eastern Wyoming shot a 291 Thursday and followed that with a 293 to not only win the tournament but leap-frog back to the top of the team standings with 67 points. MCC is second with 65.
"We had quite a few penalty strokes today on a day that was pleasant with temperatures in the 40s and 50s with a slight breeze," MCC Golf Coach Tyler Loop said.
Cameron Lampe (Windsor, Colo.) shot the low round of the day with a 72 to finish with a two-day total of 148, which tied him for fourth place. Sophomore Kaleb Wonderly (Benkelman) shot a 74 Friday and his 150 was good for eighth place. Sophomore Colton Zulkoski (Ord, Neb.) shot a 79 Friday to finish with a 156.
Sophomore Brady Rogers (Ord, Neb.), finished with a two-day total of 189, freshman Graham Gaspard, Breckenridge, Colo., finished with a 160 and freshman Brady Wonderly (Benkelman) shot a 196.
"Overall we never had anything great going, but we still put up respectable scores and at the end of the day second place is still a productive tournament," Loop said.
Eastern Wyoming freshman Gonzalo Arcelay Fernandez-Meras, of Munguia, Spain won the individual title by 10 strokes shooting mirror rounds of 68 to finish with 136.